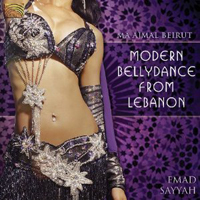 Emad Sayyah
Modern Bellydance from Lebanon (ARC Music)
This collection is an enticing array of exotic and rhythmic bellydance pieces. The arrangements range from lush orchestrations to basic percussion and keyboards. The swaying and sensual rhythms of these 12 bellydance tracks conjure up images of romance and intrigue.
Our picks include the lovely pieces Our Homeland by Nihna Baladna and I Love You by Illi Bhibbak. There is superb percussion on "Play only the drums for me" by Tabbel Tabbel. A must-have album for percussion and bellydance fans!
Author:
Madanmohan Rao
Madanmohan Rao is an author and media consultant from Bangalore, and global correspondent for world music and jazz for World Music Central and Jazzuality. He has written over 15 books on media, management and culture, and is research director for YourStory Media. Madan was formerly World Music Editor at Rave magazine and RJ at WorldSpace, and can be followed on Twitter at @MadanRao.