Here we are again for the World Music Central Gift Guide, ready to help you wend your way through some of best music and music-inspired gifts of the season. We've got a little something for everyone on your list with time-honored classics, dishy new offerings and practical ideas for the music lover in your life. Or maybe just some really cool stuff to add to your own wish list.
To kick things off let's look at what's new in iPods and MP3s. Now, there's something here for just about everyone and ones that will fit just about every budget. We've combed through to find the best customer ratings so there should be no lemons in this crowd.
Starting off with Apple's iPod collection, we've got the tricked out daddy of the lot with the iPod Touch 64 GB, 4th Generation in black for $363.99. While on the pricy side, this baby can hold 16,000 songs, 80,000 photos and 80 hours of video and comes with 3.5-inch screen and is compatible with MP3, MP3 VBR, Audible, Apple Lossless, AIFF, and WAV audio formats.
The iPod Touch 32 GB 4th Generation for $269.99 has an 8,000 song capacity and can store up to 40,000 photos and 40 hours of video. This also comes with the 3.5-inch screen.
The iPod Classic 160 GB priced at $229.00 can store up to 40,000 songs and 25,000 photos. This iPod comes with the slightly smaller 2.5-inch screen, but boast a recyclable aluminum and stainless steel enclosure.
Now the iPod Touch 8GB 4th Generation, priced at $184.99, can hold up to 2,000 songs, 10,000 photos and 10 hours of video.
More reasonable yet is the iPod Nano 8GB that can store up to 2,000 songs and has a 1.54-inch display and can support the usual MP3, MP3 VBR, Audible, Apple Lossless, AIFF, and WAV audio formats.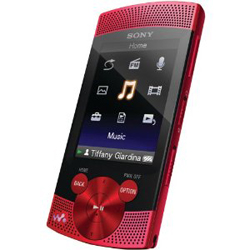 Those really pressed for cash this year might just opt for the iPod Shuffle 2 GB priced at a very reasonable $46.00. With a 500-song storage capacity and up to 15 hours of audio play on a single charge, this might be great for granny who takes a spin around the park in the mornings or for the student who could use a device that's small and not too expensive if it should get lost.
For those with an iPod phobia or aren't beholden to the Apple brand should check out the very reasonably priced Colby 4 GB Video MP3 Player with FM Radio on sale for $19.99. It can hold up to 1,000 songs, 3,500 photos and 4 hours of video and comes with a 1.8-inch color display.
San Disk's Sansa Clip Zip 4 GB, priced at $39.99, supports music, audio and podcast files like a pro and comes with an FM radio and voice recording feature. SanDisk's Sansa Clip Zip 8 GB priced at $51.80 doubles your fun with twice the storage.
Sony's Walkman 8 GB Video MP3 Player, priced at $68.54 provides a 2,000 song and 12 video hours worth of capacity with a 2-inch color display. If you're willing to stretch the budget a little more, there's the Sony Walkman 16 GB Video MP3 Player for $124.99 that can hold up to 4,000 songs and comes with a 2.4-inch display.
Most of these players come with the standard 1-year warranty and support most popular audio formats so you or your loved one can wallow in great music.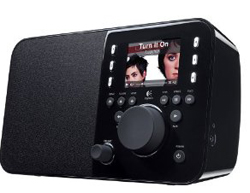 If it's bigger you're looking for we've got the Logitech Squeezebox Radio Music Player with Color Screen for $149.99. This baby comes with an "easy-to-use, all-in-one Wi-Fi music player" by connecting to your home network. Wahoo. You can tune in radio stations or play your favorite music and even catch a little CD cover art on the full-color display screen.
Sony's offering the Boombox Radio Cassette Recorder for $99.99 that can play cassettes, CDs, or AM/FM radio and comes with an MP3 connection for all your musical needs. It also comes with a handy little remote. Now you could go with Sony's CD/Cassette Portable Boombox, priced at $59.95 that will play CDs or cassettes and comes with a digital AM/FM tuner and a remote.
The Sony Mini HiFi Shelf System, priced at $116.95 comes with AM/FM tuner, CD player, MP3 playback capability and remote. It also comes with an iPod dock that can charge, play and control your iPod. The higher end is Sony's $199.00 All-in-One iPod & iPhone Audio Mini HiFi Stereo System that will allow you to listen to and charge your iPod or iPhone with its dedicated docking system, listen to CDs, play AM/FM radio stations and allows for a cassette tape or turntable connection.
Philips has come out with the Micro HiFi Shelf System for $69.99. This sleek system comes with digital radio and can play CD, CD-R and CD-RW discs, and comes with their dynamic bass boost.
The Teac LP-R450 Turntable with Cassette, Radio and CD Recorder sports CD-R/RW recording, a 3 speed turntable, AM/FM radio tuner and cassette player with LCD display for $276.43.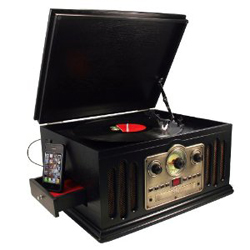 The Grace Digital Sound Write 7 in 1 Stereo Entertainment Center comes with turntable, cassette player, CD player, AM/FM stereo and a port to listen to your iPod, iPhone or MP3 player. Comes with speakers, headphone jack and will record to PC or Mac using the clever little USB port on the included Audacity Sound Editor software. Not too bad for $148.99!
Now if you're able to drop a wee bit more cash you might check out Bose's Wave Music System Boasting the Titanium Silver Wave music system with CD player, AM/FM radio tuner, headphone jack and alarm clock, this system also comes with docking station and complete connection kit for your iPod. It also comes with some nifty little extras like a remote with lighted buttons and a stand – but of course it also comes with a $529.95 price tag.
The Sonos Play: 5 All-in-One Wireless Music player, priced at $399.99, comes with a 5 integrated speaker system, wireless control with free apps for your iPhone, iPod and iPad, unlimited music, wireless play iTunes, free Internet radio, Pandora and Napster but does require high-speed Internet connection and wireless router.
Headphones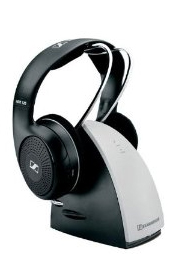 If you're looking to contain all that free flow of music or drown out the chaos around you headphones are a good bet. For under 25 bucks you might want to check out Sennheiser's HD 202 II Professional Headphones or Sony's MDR-XD200 Stereo Headphones or there's JBuds HiFi Noise-Reducing Earbuds for under 10.
JBuds also has the J5 Earbud-style Metal Headphones for around $30 or Sennheiser has the Wireless RF Headphones with Charging Cradle for around $55. Audio-Technica has the Precision Studio Headphones for around the same price.
Now, if you are ready to drop some more cash there's Beat Studio by Dr. Dre – Hi-Def Noise Canceling Over-Ear Headphones for $299.00.
Our music software picks include:
There's plenty here to choose from and you can get some deals on older versions so just follow any of the links to browse.
If you are looking for music-inspired software for kids you might want to check out the interactive music games and cushy characters of the CD-ROM set Creating Music: World of Music.
Books
Here are a few titles in the world of books that might work for someone on your list:
Videos
These DVDs in world music are available:
Box Sets
A big, fat box set will certainly earn you some points and here's just a few:

Musical Gifts for Children

The wee ones on your list, well I'm sure that they would love to take a whack at the B. Parum Pum Pum Drum kit, the Hohner 5 Piece Toddler Music Band kit or the Samba kit. There's also Hohner's Kids Rainmaker, Melissa & Doug Band in a Box or the very cool Alex Tub Tunes Water Flutes. Remember to check make sure that these gifts are age appropriate.
Musical Instruments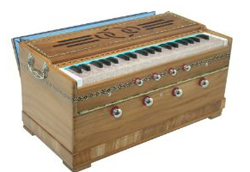 Now if you really want to make the music lover in your life happy there's nothing better than an instrument. Amazon makes it easy with a selection that goes from accordions to zithers. They have some very nice half sized violins and guitars to start young musicians and full size goodies that will make dark days of winter that much brighter.
There are plenty of how-to manuals, DVDs and computer software to ease the beginner into a world of music or some more complex theory material for the old pro on your list. A good plan would be to purchase an instrument and then have grandma foot the bill for a set of lessons with a local teacher – and those local music teachers in your area I'm sure could use the business. And, you needn't limit yourself because Amazon has got a whole line of instruments. Hey, you could be playing the harmonium, tabla or erhu by this time next year.
Jewelry
There are plenty of charming pieces of jewelry for the music lover in your life like this sterling silver clarinet charm or this silver harp necklace.
Or if you're looking for a small token for a music teacher or office worker there's a whole host of musical instrument tree ornaments like this ornate French horn. Amazon's got a Musical Instruments Fleece Throw Blanket and a Music Notes Piano & Instruments Afghan Throw Blanket.
Woodstock has a Zenergy chime, Trio Percussion Instrument for under 20 bucks that would make a nice gift, as would the trio of musical instrument metal wall art for around 60 bucks.
During your shopping season please don't forget those who need a leg up this year, even if that only to tip your pocket change into the fat man's red bucket. If you have an old guitar or other instrument in your attic or closet consider donating it to your local arts council or school or if you can try buying a music set like those mentioned above and donate it to a needy family with small children. Keep in mind the VH-1's Save the Music and the Musicmaker Foundation as well.
Lastly, we here at World Music Central wish all of our friends around the globe a safe and happy holiday season.
Author:
TJ Nelson
TJ Nelson is a regular CD reviewer and editor at World Music Central. She is also a fiction writer. Check out her latest book, Chasing Athena's Shadow.
Set in Pineboro, North Carolina, Chasing Athena's Shadow follows the adventures of Grace, an adult literacy teacher, as she seeks to solve a long forgotten family mystery. Her charmingly dysfunctional family is of little help in her quest. Along with her best friends, an attractive Mexican teacher and an amiable gay chef, Grace must find the one fading memory that holds the key to why Grace's great-grandmother, Athena, shot her husband on the courthouse steps in 1931.
Traversing the line between the Old South and New South, Grace will have to dig into the past to uncover Athena's true crime.