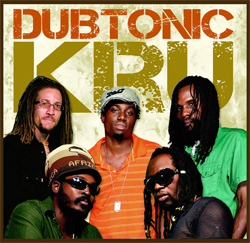 The 7th annual staging of Reggae Culture Salute will take place at Nazareth Performance Center, Brooklyn, New York on Saturday, November 5th. This is the annual celebration of the anniversary of the coronation of Emperor Haile Selassie I and Empress Menen of Ethiopia and the unique relationship between rasta, reggae, Selassie and Jamaica.
For 2011, the Coalition to Preserve Reggae Music (CPR) salutes the future of roots reggae by presenting Dubtonic Kru, Global Battle of the Bands Champion for 2010-2011. For many, their historic win earlier this year in Malaysia where they prevailed over more than 4,000 other bands made them the "Usian Bolt" of roots reggae music. Dubtonic Kru will be the first recipient of CPR's newly established Simba (young lion) Award in honor of their dedication to the tradition of roots reggae music.
Another young act making an appearance at Reggae Culture Salute 2011 is I-Wayne who debuted at #5 on the Billboard Reggae Chart with his recent release "Life Teachings" on VP Records. I-Wayne has consistently penned and performed uplifting roots reggae music for his fans the world over.
Big Youth who received congressional honors at last year's Reggae Culture Salute is back by popular demand after last year's exhilarating performance and will receive CPR's 2011 Pinnacle Award for Excellence for his more than 40 years of being a pioneer in the industry. Junior "Gabu" Wedderburn with his Ancient Vibration ensemble of traditional nyahbinghi drummers and dancers also returns to captivate and enlighten the audience.
The multi-media evening will premiere the screening of the documentary "Bad Friday – Rastafari After Coral Gardens." The film shares the stories of several Rastafarian elders as well as a retired police officer who were all involved in the horrors visited on the Rastafarian community of Coral Gardens in 1963.
The lineup will also showcase emerging artists from the membership ranks of CPR as it salutes the future of roots reggae music. Representing the New York fraternity of artists are Major Daps with his latest release, Dapsthology; Songbird Simone, former harmony singer for Stephen Marley; Coozie Mellers founder of Anthem Band and Qshan Deya who recently walked away with 2nd place honors at the Jamaica Festival Song competition with his big hit, "Everything Tun Up."
With an internet connection and a computer, you can enjoy Reggae Culture Salute from anywhere in the world. Visit www.cprreggae.org and place your pay-per-view order before 7:00PM, Saturday, November 5.
Tickets are $30 in advance and $40 at the door. To purchase tickets visit local ticket outlets or www.cprreggae.org.
Children (12 years and under) are free. For more information call 718-421-6927 or email info@cprreggae.org.
Author:
World Music Central News Department
World music news from the editors at World Music Central