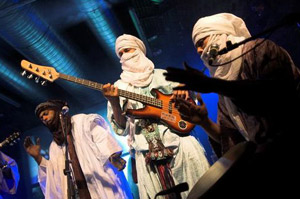 Renowned Tuareg band Tinariwen has been denied entry to Canada. "This draconian measure has prevented audiences at the Winnipeg Folk Festival last weekend and the Vancouver Folk Music Festival, which opens today, the rare opportunity to see this fine band," said Steve Edge of the Rogue Folk Club in Vancouver.
"This decision is incredibly distressing and confusing," said Vancouver Folk Music Festival Artistic Director Linda Tanaka. "The group has been granted approval to enter and tour the United States with no apparent problem, yet have been denied entry here. Tinariwen has a long history of international touring at prestigious events such as the Glastonbury, Coachella & WOMAD Festivals, performing in Vancouver as recently as 2010 as part of the Cultural Olympiad. They fully complied with their visa restrictions then, and there is no reason to expect this visit would be different. This inexplicable decision is a blow to the festival, to the artists and to their many dedicated fans in this city. We will continue to get to the bottom of this situation and hope to invite the band back at a later date."
At this time, Citizenship and Immigration Canada has not provided any reasons for denying the visa application. However, Tinariwen has toured Canada before and did not have any problems. Tinariwen is currently touring the United States which is known to have stricter screenings for foreign musicians.
According to the Vancouver Folk Music Festival, Tinariwen had initially applied for visas at the Canadian Embassy in Paris and were denied, forcing them to cancel their appearance at the Winnipeg Folk Festival earlier this month.
The Vancouver Folk Music Festival, along with the group's North American representation, explored every avenue available to provide assurances to Canadian officials about Tinariwen's Vancouver performance.
The Canadian Embassy in Paris as well as the offices of Members of Parliament Dr. Hedy Fry and Ms. Libby Davies sent letters in support of Tinariwen's re-application in Los Angeles: Dr. Fry's to the Canadian Consulate in Los Angeles and Ms. Davies' to the Minister of Canadian Heritage and Official Languages, the Honourable James Moore. Dr. Fry was particularly distressed that she had received no reply to her letter as of 4:30 pm on July 14.
Author:
World Music Central News Department
World music news from the editors at World Music Central