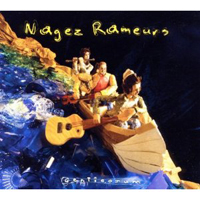 Genticorum
Nagez Rameurs (Mad River Records, 2011)
Looking to kick up your heels this summer with a little Quebecois flair? Look no further than the Mad River Records release Nagez Rameurs by Genticorum. This feisty group, comprised of fiddler and vocalist Pascal Gemme, guitarist, vocalist and jaw harpist Yann Falquet and flutist, electric bassist and vocalist Alexandre de Grosbois-Garand, have laid down some fine Quebecois fare on Nagez Rameurs that will have even the stuffiest audiophile taking a turn on the dance floor. With three previous recordings (La Bibournoise, Malins Plaisirs and Le Galarneau) to their credit, Genticorum jumps headlong into a new set of tracks on Nagez Rameurs with gusto.
Singer and guitarist Yann Falquet explains the recording, "There's a big chunk of Francophone repertoire linked to voyages, because they shaped the colony by exploring and settling the country, and by interacting with the native peoples they encountered. It's interesting because unlike a lot of Quebecois songs, many of these songs are not from Brittany or Normandy. They aren't about France. They tell the stories of people once they reached North America."
And what a plumy collection of tunes! Bright and jaunty, Nagez Rameurs opens with the potently catchy "Tout Le Long du Voyage" and wends it way through "Turlutte Hirsute" with its sweet lyrical flute, the delicious romp "Quand Chus Parti du Canada" and the expertly worked "Les Menteries" and "Galope Doux Bedon." Title track "Nagez Rameurs" is brimming over utterly striking vocals in this Hudson River Company oarsman song; the inspiration taken from a poem, "A Canadian Boat Song" by the Irish poet Thomas Moore.
Ripe with Celtic overtones, Mr. Falquet explains, "There's been a strong Celtic influence on Quebecois bands for a while, but we younger musicians are drawing on all sorts of things, especially the newer roots music from Scandinavia. Not necessarily in the neo-traditional way either. We don't add percussion or electronics; we just try to taka a really fresh, passionate look at the old tunes."
Nagez Rameurs is fresh, delicious romp through the new Quebecois sound.
Buy the album or MP3 downloads:
Author:
TJ Nelson
TJ Nelson is a regular CD reviewer and editor at World Music Central. She is also a fiction writer. Check out her latest book, Chasing Athena's Shadow.
Set in Pineboro, North Carolina, Chasing Athena's Shadow follows the adventures of Grace, an adult literacy teacher, as she seeks to solve a long forgotten family mystery. Her charmingly dysfunctional family is of little help in her quest. Along with her best friends, an attractive Mexican teacher and an amiable gay chef, Grace must find the one fading memory that holds the key to why Grace's great-grandmother, Athena, shot her husband on the courthouse steps in 1931.
Traversing the line between the Old South and New South, Grace will have to dig into the past to uncover Athena's true crime.