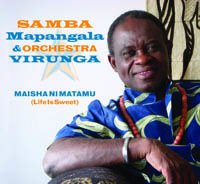 Samba Mapangala & Orchestra Virunga
Maisha Ni Matamu (Life Is Sweet) (Virunga Records VR003, 2011)
Still supple, spine tingling and, yes, sweet after 30 years on the scene, the voice of East African sensation Samba Mapangala is in fine form on his latest album. And he's still the master of combining Congolese, Kenyan and Tanzanian rumba with the similarly chiming rhythms of Kenyan benga, resulting in one irresistible dance music. He dubbed it the Virunga sound and it was a sensation at Nairobi's Starlight Club in the early '80s before Mapangala brought it to the world. Now he and his Orchestra Virunga- which on this recording includes such legendary participants as guitarists Syran Mbenza and Huit Kilos, vocalist Wuta Mayi and drummer/animateur Komba Bellow Mafwala -return with a set of new songs for maximum dancing and listening pleasure.
The title track will instantly have you believing its sentiments to be true, "Zanzibar" pays melodic tribute to nonagenarian singing legend Bi Kidude, "Jirani" celebrates neighborliness in a reggae-laced style (and gets reprised as an instrumental at the end) and "Nipigie Simu" sports a lively Latin feel complete with montuno piano pattern.
The need to protect the environment and its wildlife is addressed on "Tupande Miti" (with guest voices Suzanna Owiyo and Ballou Canta) and "Les Gorilles Des Montagnes" respectively, and the soothing, harmonica-laced "Tupendane (Let's Love Each Other)" is as much a showcase for multi-instrumentalist and singer John Bashengezi as for Mapangala's tenderly shared lead vocal.
Maisha Ni Matamu delightfully provides the sort of sweetness that won't harm your teeth or put pounds around your middle but fulfills your need for music to move you each and every day of your life.
Buy the album or MP3 downloads:
Author:
Tom Orr
Tom Orr is a California-based writer whose talent and mental stability are of an equally questionable nature. His hobbies include ignoring trends, striking dramatic poses in front of his ever-tolerant wife and watching helplessly as his kids surpass him in all desirable traits.