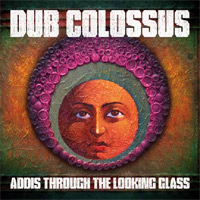 Dub Colossus
Addis Through the Looking Glass (Real World, 2011)
Following up on their 2008 debut recording In a Town Called Addis, Dub Colossus is back with a new collection titled Addis Through the Looking Glass on the Real World label. Immersing listeners in a fusion of jazz, dub reggae and contemporary and traditional Ethiopian musical styles, Addis Through the Looking Glass proves just as addicting as their debut recording. Slick and savvy, this recording snares listeners with a sizzling layered fusion sound and a fully wrought compositions.
Full of intoxicating rhythms, bold brass and dishy keyboard and guitar lines, Addis Through the Looking Glassshimmers from the dark shadowy jazz of the opening title track through to the satiny slickness of closing track "Gubeliye." Stand out tracks included the organ, guitar and brass infused "Dub Will Tear Us Apart," the brightly colored "Wey Fikir" with stunning vocals by Tsedenia Gebremarkos Woldesilassie and the reggae bluesy "Satta Massagana."
Addis Through the Looking Glass goes hip and sassy on "Guragigna" with vocalist Sintayehu "Mimi" Zenebe, pianist Samuel Yirga, drummer Nick Van Gelder, bassist Dr. Das, conga player Toby Mills, The Horns of Negus, tenor saxophonists Ben Somers and Feleke Hailu Woldemariam and guitarist, organist and Dub Colossus producer Nick Page or better known as Dubulah. And it just gets better with the deeply mysterious thrum of "Yezema Meseret" with large doses of bass, piano and brass. "Wehgene" rides a wave of downright coolness, but it's "Uptown Top Ranking" that kicks it with a ripe reggae feel to it.
Addis Through the Looking Glass is so savagely cool it's downright fierce.
Buy the album or MP3 downloads:
Author:
TJ Nelson
TJ Nelson is a regular CD reviewer and editor at World Music Central. She is also a fiction writer. Check out her latest book, Chasing Athena's Shadow.
Set in Pineboro, North Carolina, Chasing Athena's Shadow follows the adventures of Grace, an adult literacy teacher, as she seeks to solve a long forgotten family mystery. Her charmingly dysfunctional family is of little help in her quest. Along with her best friends, an attractive Mexican teacher and an amiable gay chef, Grace must find the one fading memory that holds the key to why Grace's great-grandmother, Athena, shot her husband on the courthouse steps in 1931.
Traversing the line between the Old South and New South, Grace will have to dig into the past to uncover Athena's true crime.