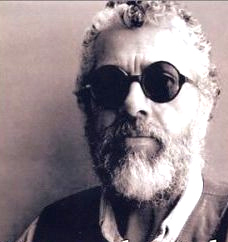 Argentine folk singer and songwriter Facundo Cabral was shot and killed Saturday, July 9, 2011 in Guatemala City, Guatemala. Mr. Cabral was 74.
Mr. Cabral was on a Latin American tour when he his car, on its way to Guatemala City's La Aurora International Airport, was fired upon by unknown gunman. Mr. Cabral's Nicaraguan promoter Henry Farinas was also in the car when gunfire erupted and is in the hospital in stable condition, according to police. Motives for the shooting are yet unknown, but a police investigation is underway.
Best known for for his "No Soy de Aqui Ni Soy de Alla," the famed Facundo Cabral was born May 22, 1937 in La Plata, Argentina. His humble beginnings took a turn for the worse when at the age of 9, Facundo started working to help support his mother and six siblings after his father abandoned the family. The young Cabral would soon pick up the guitar and sing for tourists at the Mar del Plata. He found inspiration through Argentina's folklorist Atahualpa Yupanqui.
The folk singer would go on to travel and gain popularity throughout Latin America with his literary brand of political protest songs, recording in more than 165 countries.
In 1976 as the Argentine government was taken over by military rule, Mr. Cabral was a marked man and fled to Mexico to continue recording, playing concerts and writing.
His recordings include En Vivo, Serie De Oro, Antologia 2 1960-07 and El Oficio De Cantor. In addition to his folk songs, Mr. Cabral was also a poet and author of more than 60 books.
In 1996, he was named a UNESCO Messenger of Peace.
Mr. Cabral's life met tragedy after a 1978 plane crash that killed his wife and young daughter. He also struggled with illness and physical limitations throughout his later years.
No announcements have been made for Mr. Cabral's funeral.
Author:
TJ Nelson
TJ Nelson is a regular CD reviewer and editor at World Music Central. She is also a fiction writer. Check out her latest book, Chasing Athena's Shadow.
Set in Pineboro, North Carolina, Chasing Athena's Shadow follows the adventures of Grace, an adult literacy teacher, as she seeks to solve a long forgotten family mystery. Her charmingly dysfunctional family is of little help in her quest. Along with her best friends, an attractive Mexican teacher and an amiable gay chef, Grace must find the one fading memory that holds the key to why Grace's great-grandmother, Athena, shot her husband on the courthouse steps in 1931.
Traversing the line between the Old South and New South, Grace will have to dig into the past to uncover Athena's true crime.