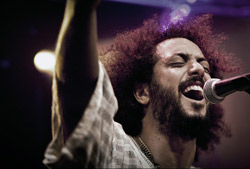 Yemen Blues, Watcha Clan, Shabate and Awesome Tapes from Africa are scheduled for Sunday, July 31 at Mainstage at Central Park, Manhattan.
Yemen Blues, a group of top musicians founded by Ravid Kahalani and Omer Avital, is an original and fascinating meeting of traditional Yemenite melodies influenced by the world of blues, jazz and funk. The flavor of West African roots and enhanced modern compositions come together to create a breathtaking experience and mixture of complex grooves. Their unique sound is the powerful outcome of Kahalani's musical journey from his Yemenite roots to western influences.
Through its compelling mix of languages and musical styles, Watcha Clan is aspiring to be the sound of global society. With the 2011 release of their newest album, Radio Babel, Watcha Clan intends to break down the barriers of what is considered "world" music. With a visionary eclecticism that incorporates everything from hip-hop to indigenous music, the band rolls out thriving, bass-heavy pulsations anchored by mesmerizing vocals.
If you unite Ethiopian rhythms, traditional Jewish melodies and prayers with be-bop, it would probably sound something like Shabate. Playing SummerStage as their first-ever, North American appearance, this culturally diverse band led by Abete Brihorn, interweaves African and middle eastern sounds with blues and funk underpinnings. Shabate is a merging of the secular and religious that will appeal to all audiences.
Awesome Tapes from Africa will present a danceable journey featuring the best of rare and obscure African music as Brian Shimkovitz DJs the music he shares through his MP3 blog.
Sunday, July 31
Mainstage at Central Park, Manhattan
Doors at 2:00 pm, Show at 3:00 pm
Author:
World Music Central News Department
World music news from the editors at World Music Central