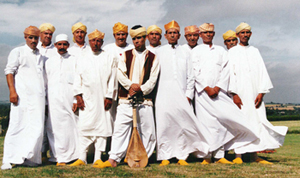 The Master Musicians of Jajouka, led by Bachir Attar, are set to perform on Saturday, July 2nd at 8:00 p.m. at Haus der Kulturen der Welt in Berlin.
It is expected to be an evening of Trance sounds. Mick Jagger called them "one of the most musically inspiring groups still left on the planet", and for William S. Burroughs, they were "The world's only 4,000 year-old rock band".
Their pre-Islamic ritual music combines highly complex Trance rhythms and sound layers from catchy woodwind melodies. DJ Dub Gabriel answers back at the after-show party, with dance music ranging from ancient Trance through Post Punk to Dubstep.
Recordings available: The Master Musicians of Jajouka, Pipes of Pan at Jajouka, The Master Musicians of Jaouka Featuring Bachir Attar; Apocalypse Across The Sky, The Source
Haus der Kulturen der Welt
John-Foster-Dulles-Allee 10
10557 Berlin
Phone: +49 (0) 30 – 39 787 – 175
http://www.hkw.de
Author:
World Music Central News Department
World music news from the editors at World Music Central