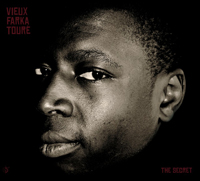 Vieux Farka Toure
The Secret (Six Degrees 65703611792, 2011)
It's no longer any secret that the origins of the blues are West African, just as it's perfectly clear that Mali's Vieux Farka Toure is fully equipped to carry on the musical legacy left my his father, the late and legendary Ali Farka Toure. Vieux's new one is his third studio release, following last year's live album that rocked like nobody's business and still sounded African. Speaking of rock, consider the fact that The Secret includes guest turns by Dave Matthews (a native South African, let's not forget) and Derek Trucks.
Is Vieux crossing over toward greater appeal to the air-guitar legions of the western world? In a word, no. Trucks' perfectly twanged guitar is in full service to the Malian roots of "Aigna" and Matthews' characteristically dry vocals on "All the Same" compliment those of Vieux like a knowledge seeker consulting with a marabout. Granted, Vieux split the difference between Africa and America by recording The Secret in both Bamako and Brooklyn, but no one's going to mistake this for anything but an album by an African guitar legend in the making. Then again, he appears to already be one.
Tracks like "Ali" and the opening "Sokosondou" feature precise, undulating riffs that are equal parts lead and rhythm, and the songs themselves are every bit as hypnotic as the elder Toure was at his best. Some of the old man's final recorded playing (before his death from bone cancer) is in fact heard on the title piece, and you'd be hard pressed to find much difference between the high quality picking of father and son.
Still, Vieux is looking to expand upon and not merely imitate Ali's works. Witness "Lakkal (Watch Out)" with its jazz fusion feel (thanks in part to the influence of The Secret's producer, Soulive guitarist Eric Krasno) and the unleashed funk of "Borei" complete with manic bass soloing by Mamadou Sidibe, and you're hearing Vieux tread fresh ground where his father never walked.
One can be certain, however, that Ali is listening from somewhere out there, beaming as Vieux jams alongside jazz great John Scofield and New Orleans funkster Ivan Neville, lays out pure desert blues and serves up another in a series of great albums.
The secret is out: Vieux Farka Toure has arrived, and his latest is nothing short of superb.
Recordings available:
Author:
Tom Orr
Tom Orr is a California-based writer whose talent and mental stability are of an equally questionable nature. His hobbies include ignoring trends, striking dramatic poses in front of his ever-tolerant wife and watching helplessly as his kids surpass him in all desirable traits.