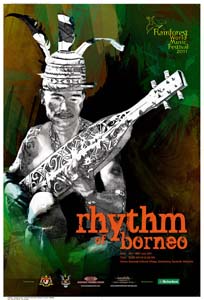 The Rainforest World Music Festival, held annually in Malaysian Borneo, has become one of the leading international world music festivals. As the 2011 edition approaches, World Music Central interviewed Mr. Dato' Rashid Khan, CEO of the Sarawak Tourism Board and advisor to the festival.
What is the involvement of the Sarawak Tourism Board (STB) in the Rainforest World Music Festival?
Sarawak Tourism Board is the organizer of the Rainforest World Music Festival. However, beginning in 2011 the organization particularly the operations part of it is left to STB L&P Sdn Bhd, a subsidiary of the Sarawak Tourism Board. The promotions and publicity of the event however still remain with the Board. The rationale for this is due to the fact that the organization of the festival is a full time job and as such a lot of time and effort needs to be put into it. With this segregation, STB can concentrate on its core activity ie promotion and marketing.
How has the festival evolved?
The festival started in 1998 from humble beginnings. From a 2 day event and a crowd of only 300, the festival has been extended to 3 days and numbers have now swelled to 19,470 in 2010. The festival has gained recognition in the international arena and has been voted the top 25 festivals in the world for 2 consecutive years in 2010 & 2011 by Songlines, a renowned world music magazine. It has also been voted top 5 festivals in Asia by Content Creatorz, an international blogger.
Every year, the festival brings top international acts to the festival. How is the selection process?
The festival appoints an Artistic Director whose role is to select the bands from across the globe representing the various music genre suitable for the festival.
What can festivalgoers expect from the Rainforest World Music Festival this time?
22 bands will be making their appearance on stage. They represent a host of genres from across the globe making for a truly unique world music experience.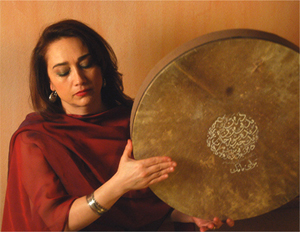 Amongst the myriad performers are Startijenn (France), the Pacific Curls (New Zealand), Mamak Khadem (Iran), The Blue Canyon Boys (USA), Lisa Haley & The Zydekats (USA), The Shin (Georgia), Iskwew (Canada), Frigg (Finland), Malick Pathe Sow (Senegal), Agungbeat (Malaysia), Masters of the Sape (Malaysia), Victor Valdez Trio (Mexico/Australia), Ilgi (Latvia), Leweton Women's Water Music (Vanuatu), Kamerunga (Australia), Kissmet (India/UK), Paddy Keenan Trio (Ireland), DuOud (Tunisia/Algeria), Joaquin Diaz (Dominican Republic), Kamafei (Italy), Kenge Kenge (Kenya) and Warsaw Village Band (Poland).
Besides good music and great company, a cultural bazaar with over 60 stalls awaits, featuring a wide variety of local, fusion and international food and beverages as well as stalls selling festival memorabilia, performers CDs and collectibles at the venue.
In addition to playing concerts, the musicians also present workshops during the day at Sarawak Cultural village. What is the significance of the workshops?
At the workshops festival-goers are allowed to interact with the musicians and experience the music and dance of the different cultures up close.
Where do most of the festivalgoers come from?
A majority of the festival goers come from outside Sarawak (about 70%) namely from Peninsula Malaysia and for those international tourists, majority of them come from Australia, Spore, UK, Europe, US and Canada.
What's the most enjoyable bit about organizing the Rainforest World Music Festival?
I guess it is in the success of the festival, when you see the festivalgoers enjoying every moment. That's when you know all yr hard work has paid off.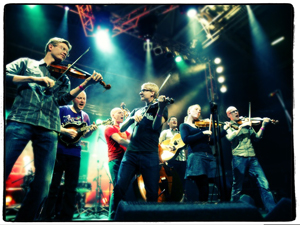 What type of feedback do you get back about the Rainforest World Music Festival?
From the survey conducted we would be able to know the demographics of the audience, who they come with, where they come from, duration of stay and of course on their likes and dislikes, ranging from the quality of bands, type of music preferred as well as the food etc at the festival ground.
If I were to visit Sarawak for the first time, which places would you recommend that I visit?
Sarawak is known for its rainforest and the adventure that can be found here. As such the national parks should not be missed. Namely Bako National Park near Kuching, where you can see the Proboscis Monkey, endemic species to Borneo, as well as Mulu National park, near Miri, the only World Heritage site in Sarawak which offers an experience to explore the world's largest cave.
A visit to the Semenggok Orang Utan Rehabilitation Centre near Kuching is also recommended. Your visit would not be complete without a visit to the longhouses to experience the culture of the people. However, if time does not permit , then you could visit the Sarawak Cultural Village where you can experience the lifestyle of the various ethnic groups on display here.
And what local foods would you recommend?
Sarawak Laksa (Noodle)
The state's signature dish is freshly made vermicelli submerged in a concoction of deliciously thick soup rich in 'santan' (coconut milk) and spices, topped with tasty chunks of seafood, chicken and sliced omelette.
This mouth-watering delight is a Sarawak original and best-taken piping hot. You have not savoured Sarawak until you have tasted Sarawak Laksa. A gastronomical delight that is easily available and served in most coffee shops and hotels.
Kolok Mee (Noodle)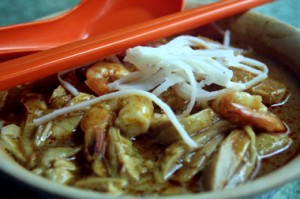 Kolok Mee is a type of noodle dish commonly found in Sarawak state. It is served throughout the day – for breakfast, lunch or even supper. It is made of egg noodle, blanched in water that looks like instant noodle and served in a light sauce with some condiments like shredded beef.
Manok Pansoh (Chicken cooked in Bamboo)
One of the best known Iban dishes is pansoh manok (ayam pansuh). Chicken pieces are cut and stuffed into the bambo togetherwith other ingredients like mushrooms, lemongrass, tapioca leaves etc and cooked over an open fire – similar to the way lemang is cooked.
This natural way of cooking seals in the flavours and produces astonishingly tender chicken with a gravy perfumed with lemongrass and bamboo.
Umai (Marinated Raw Fish)
Umai is a raw fish salad popular among various ethnic groups of Sarawak, especially the Melanaus. In fact, umai is a traditional working lunch for the Melanau fishermen.
Umai is prepared raw from freshly caught fish, iced but not frozen. Main species used include Mackerel, Bawal hitam and Umpirang
It is made mainly of thin slivers of raw fish, thinly sliced onions, chilli, salt and the juice of sour fruits like lime or assam. It is usually accompanied by a bowl of toasted sago pearls instead of rice. Its simplicity makes it a cinch for fishermen to prepare it aboard their boats.
Midin (Wild Jungle Fern)
The locals greatly indulge in jungle fern such as the midin (quite similar to pucuk paku that is popular in the Peninsular Malaysia). Midin is much sought after for its crisp texture and great taste. Midin is usually served in two equally delicious ways – fried with either garlic or belacan.
In addition to the world music festival, are there any other music festivals in Sarawak?
The other festival organized by the Board is the Borneo Jazz Festival which is held in May annually.
Aside from festivals, are there any other opportunities to watch live performances by local traditional and contemporary folk music artists?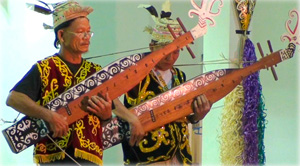 With 27 ethnic groups in Sarawak, there is always a reason to celebrate something or the other. Apart from the main festival of Gawai Dayak , all the other ethnic groups have their own festivals. Log on to www.sarawaktourism.com for our calendar of events to see what's in store.
Are there any shops or locations where one can purchase traditional musical instruments?
These can be found mainly at the Sarawak Cultural Village
Are there any websites about Sarawak that you would like to recommend?
www.sarawaktourism.com is the board's website on the destination. Log on to this and you will be able to find links to more information on the state and its offerings
Read the whole Rainforest World Music Festival 2011 series:
Related stories:
Irish Pipes Maestro to Perform at 2011 Rainforest World Music Festival
British Band Kissmet to Bring Bhangra Rock to 2011 Rainforest World Music Festival
Oud Masters DuOud to Perform at 2011 Rainforest World Music Festival

The Shin from Georgia in Eurasia to Perform at Rainforest World Music Festival 2011
Kamerunga's on top of the world
Persian Music Sensation Mamak Khadem Talks About Her Upcoming Performance at the Rainforest World Music Festival 2011
Author:
Angel Romero
Angel Romero y Ruiz has been writing about world music music for many years. He founded the websites worldmusiccentral.org and musicasdelmundo.com. Angel produced several TV specials for Metropolis (TVE) and co-produced "Musica NA", a music show for Televisión Española (TVE) in Spain that featured an eclectic mix of world music, fusion, electronica, new age and contemporary classical music. Angel also produced and remastered world music albums, compilations and boxed sets for Alula Records, Ellipsis Arts, Music of the World.