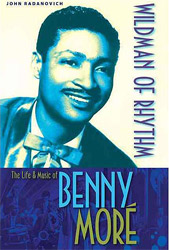 Wildman of Rhythm: the Life and Music of Benny Moré by John Radanovich University Press of Florida; 1st edition (September 27, 2009)
Benny More was one of the top singers that Cuba ever produced. I highly recommend this book if you are into Latin, Cuban, mambo music. Benny More was born in Cuba and as a young child exposed to the rich folkloric music and drumming. This music was instilled in Benny's soul as a child and portrayed through his music. Benny is one of my favorite singers, coming first among other Latin singers and has a style like to no other.
John Radanovich details events in Benny's life from start to finish in a complete history of Benny More's life.
John, I have seen different spellings from Cuba for Benny More (Beny), what would you say the correct spelling for his name would be correct?
"Although much of his early recordings show his name spelled "Beny," according to the More family, Benny named himself after Benny Goodman when he went to Mexico with Miguel Matamoros. There are many people willing to violently argue for one spelling or the other. "Benny" is on his gravestone."
What gave you the momentum to write this book?
"I always loved big bands and grew up with jazz, but when I heard "Que Bueno Baila Usted" for the first time in New Orleans, I was completely knocked out. For some years I had been writing about Latin jazz and salsa, and every singer I talked to always said—as did Celia Cruz—that what they did was nothing compared to what Benny did. Eventually I had interviewed many people who knew Benny, and Paquito D'Rivera urged me to keep going, so I found myself with much of the preliminary materials for a book."
In your research, did you get any assistance for details of Benny's life?
"Benny's family, like his daughters in Miami, and his daughter in Havana, helped me with lots of details. Benny's grandson in Miami, Roly, knows probably more than anyone in the world on Benny, though Roly was surprised by some of the things I found. I also interviewed Benny's first cousins: the great Alfredo "Chocolate" Armenteros in New York City, and Enrique "el Conde Negro" Benitez in Havana.
Chocolate was Benny's first bandleader, and Enrique taught Benny how to sing and wrote many of his songs. I went to meet Generoso Jimenez in Havana in 2000, and returned to do more research in Havana and Santa Isabel de las Lajas, Benny's hometown, in 2007. I also interviewed others who knew Benny like Bebo Valdes and Graciela Perez."
In writing the book, did you discover things that were not true/or untrue that were said about Benny?
"Some people in the U.S. believe Benny was beaten by Castro security forces and died from the wounds, which isn't true. Benny definitely died at age 44 of cirrhosis of the liver caused by incredible drinking throughout his life. I also learned that Benny was neither an anti-revolutionary nor pro Castro; there are people who want to argue either belief. The fact is that Benny was completely nonpolitical. I also learned that Benny was only legally married once, to a Mexican named Juanita Bocanegra, though he fathered at least 12 children."
Have you received feedback from readers, regarding the publishing of the book?
"Readers who love Benny's music are very happy with the book, and so is Benny's family. I wrote the book for his fans and his family, so it's great to know that after a lot of difficult research, I was able to please the people who I wanted to most. I also wrote the book for those who don't know anything about the music and era in Havana, with the American mafia owning the hotels, the excitement of the music, and all the stars who regularly went to Havana like Nat King Cole and Frank Sinatra."
Has the book been translated into Spanish and sent to Cuba where Benny was born?
"The book hasn't been translated into Spanish yet, and I hope that will happen since there are still lots of his fans in Mexico, Panama, Colombia, Venezuela, and Spain. It might be a bit difficult for Cubans in Cuba to have the book because it contains a few stories of how Castro manipulated musicians and other artists. Though I believe some writers in Cuba do have the book in English."
John what other books have you written and what other books about musicians, do you intend to write?
"This was my first published book. I know someone needs to do a book on the last great Cuban musician, Bebo Valdes, but writing books these days is a very expensive and time-consuming pastime, and it's very difficult to get books published in the U.S. now, unfortunately."
This book needs to be on your list or lists to buy if you are a Latin music lover. A chance to learn the rich history, rewards and struggles of the best Latin singer that ever lived. I think Benny would have been proud of his book and of John Radaovich's writing of him. John, Benny would have said, "Que bien escribe usted!".
Hardcover: 240 pages
Publisher: University Press of Florida; 1 edition (September 27, 2009)
Language: English
ISBN-10: 9780813033938
ISBN-13: 978-0813033938
Buy the book:
Author:
Les Moncada
Les Moncada is a Latin Jazz orchestra leader and conguero for over 40 years. He was born in Oakland, California and currently resides in Sacramento, California.
Les Moncada is a student of conga and batá master Francisco Aguabella, a friend of the late promoter Bill Graham, vibraphonist Cal Tjader, Latin Jazz band leader Pete Escovedo, conguero Mongo Santamaria and many, many more.
He has been writing for many years for World Music Central.
Les has several Facebook sites: Timbales and Congas Bongo Bata & bells; Conguero, Professional Conguero & their Instrument; Bongocero, Professional Bongocero their Instrument; Alambres Dulces, Tres, Cuatro & Laud