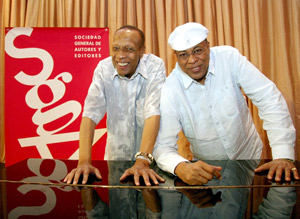 Berklee president Roger H. Brown will present Cuban musicians Chucho Valdés and Bebo Valdés, with honorary doctor of music degrees at Berklee College of Music's commencement ceremony, Saturday, May 7, at Agganis Arena at Boston University. Other honorees include Kenny Garrett, Mavis Staples, and Michael McDonald.
Commencement speaker Kenny Garrett will address more than 900 Berklee graduates, their parents, and invited guests. Bebo Valdés will not be in attendance; his son Chucho will accept the degree on his behalf.
This year's honorary doctorate recipients are being recognized for their achievements and influence in music, and for their enduring contributions to American and international culture.
On commencement eve, as is Berklee's tradition, students will pay tribute to the honorees by performing music associated with their careers at a concert held in the Agganis. The concert and ceremony are not open to the public.
Grammy and Latin Grammy Award-winning, composer, arranger, and bandleader Chucho Valdés, known for melding diverse musical styles with virtuosic dexterity, plays a prolific role among the Cuban jazz community.
Despite cultural barriers due to his Cuban residency, Valdés has developed and maintained a wide and loyal American audience. Since beginning his professional career at 15 with the Havana-based Sabor de Cuba orchestra, directed by his father, Bebo Valdés, Valdés has enjoyed a successful career as both a soloist and group member.
In 1972, Valdés cofounded Irakere, known for its explosive mixture of jazz, rock, classical, and traditional Cuban music, alongside music director Armando de Sequeira Romeu. The group won a Grammy Award in 1979 for their self-titled album. Valdés has released more than 85 albums under his own name, and he has gone on to win four Grammy Awards for the albums Live at Newport, Havana, Live at the Village Vanguard, and Chucho's Steps.
Valdés has performed internationally at world-renowned venues such as Carnegie Hall, the Kennedy Center, and the Blue Note Jazz Club, often sharing the stage with jazz giants like Herbie Hancock, Chick Corea, Branford and Wynton Marsalis, Dizzy Gillespie, Joe Lovano, George Benson, Max Roach, Jack DeJohnette, Ron Carter, Tito Puente, and many more. In addition to his musical achievements, in 2006, Valdés was named Goodwill Ambassador of the Food and Agriculture Organization of the United Nations.
Born Ramón Emilio Valdés Amar in Havana, Cuba, in 1918, pianist, bandleader, composer, and arranger Bebo Valdés is often dubbed the most important Cuban musician of our time.
Playing a leading role in the golden age of Cuban music, Valdés has been an unparalleled member of the Latin jazz community since the 1940s. He began working as a pianist and arranger for Ernesto Lecuona and Rita Montaner and went on to play an important role in the development of mambo before creating his own rhythm, batanga.
In 1952, producer Norman Granz, inspired by the positive reception of Afrocuban jazz in New York, enlisted Valdés to tape the first Cuban jazz jam session ever recorded on the island. In 1960, Valdés left Cuba to perform and record in Mexico and the United States before settling in Sweden, where he lived for three decades outside of the limelight.
In 1994, Valdés released Bebo Rides Again, a collection of Cuban jazz classics and Valdés originals produced by Paquito D'Rivera, reviving his career. Four years later, Valdés was invited by Spanish director Fernando Trueba to appear in and play on the soundtrack for his 2000 documentary on Latin jazz, Calle 54. Valdés earned a Grammy Award and a Latin Grammy Award for his work on the film, catapulting him to newfound stardom.
Over the last decade, Valdés has released many more acclaimed albums, including Lágrimas Negras with Flamenco heavyweight El Cigala, and has worked on four more films, which have gained recognition by the prestigious Spanish Academy of Cinematic Arts and Sciences and by the BBC. Since his first Grammy nods in 2000, Valdés has won two additional Grammy Awards and five additional Latin Grammy Awards.
Bebo Valdés currently resides in Málaga, in Spain's Mediterranean coast.
Author:
World Music Central News Department
World music news from the editors at World Music Central