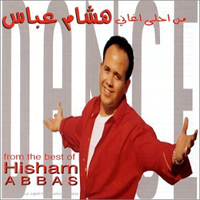 Hisham Abbas
Best of (EMI)
Egyptian singer Hisham Abbas is probably best known for his hit song Nari Nari, part of which was shot in India and features lyrics in Arabic and Hindi. Born in Cairo, he has produced a string of studio albums such as Ya Habiby Taalah Gamby, Sebha Tehebbak and Ya Leila – starting off with Gawabak and Zay El Aol.
He has received a number of awards, including Orbit's Arabic Song Award. This compilation has 15 tracks culled from his successful albums, great for pepping up your party and adding a sizzle of bellydance.
Buy the album:
Check out his Web site at HishamAbbas.net for more.
Author:
Madanmohan Rao
Madanmohan Rao is an author and media consultant from Bangalore, and global correspondent for world music and jazz for World Music Central and Jazzuality. He has written over 15 books on media, management and culture, and is research director for YourStory Media. Madan was formerly World Music Editor at Rave magazine and RJ at WorldSpace, and can be followed on Twitter at @MadanRao.