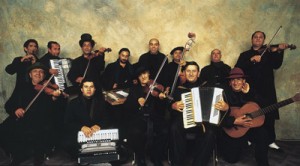 Two of the major Gypsy bands join forces to create a big band under the name Band of Gypsies. Their concert will take place Wednesday 6 July 2011 at Hackney Empire.
Taraf de Haïdouks and Kocani Orkestar are two of the most famous, emblematic and brilliant Balkan Gypsy bands.
Formed in 1991 the "band of honourable brigands" ("Taraf de Haïdouks") is celebrating its 20th anniversary by launching an ambitious project: a kind of Balkan big band, in which the 13 Taraf musicians and singers are joined by the 13 members of Macedonia's Kocani Orkestar, one of the top brass bands around.
Be ready for a wildly entertaining evening of raucous new music and exhilarating arrangements of old favorites as the swirling and fiery violins, cimbaloms and accordions of Taraf de Haïdouks battle it out with the mighty, funky brass and percussion of Kocani Orkestar.
Expect the unexpected as the two bands draw on traditional music from the Romanian countryside, urban Balkan pop, medieval ballads oriental brass band music, Turkish influences and even Bollywood film music in what promises to be an unforgettable encounter between two of the world's finest Gypsy bands.
Taraf de Haidouks recordings available:
In North America: Band of Gypsies 2, Musique des Tziganes de Roumanie, Honourable Brigands, Magic Horses and Evil Eye, Dumbala Dumba, Taraf de Haidouks, Band of Gypsies, Maskarada, Continuing Adventure of Taraf De Haidouks
In Europe: Band of Gypsies 2, The Continuing Adventures of Taraf De Haidouks: Live, Dumbala Dumba, Taraf De Haidouks, Band of Gypsies, Musique Des Tsiganes De Roumanie, Honourable Brigands Magic Horses and Evil Eye, Maskarada
Kocani Orkestar recordings available:
In North America: Band of Gypsies 2, Ravished Bride, Alone at My Wedding, L'Orient Est Rouge, Une Fanfare Tsigane
In Europe: The Ravished Bride, Alone at My Wedding, L'Orient est rouge, Band of Gypsies 2, Une Fanfare Tsigane, Cigance, Gypsy Follie

Wednesday 6 July 2011
Band of Gypsies: Taraf de Haïdouks & Kocani Orkestar
Hackney Empire
Produced by the Barbican in association with Serious

Box Office: 0845 120 7550
www.barbican.org.uk/blaze
Barbican Centre
Silk Street
London
EC2Y 8DS

Author:

World Music Central News Department

World music news from the editors at World Music Central