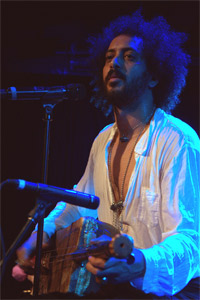 Music is not about words – sure, the lyrics are important. But it's the music inside of a language and the expression inside – it's all about feelings. – R. Kahalani
Word spread like wildfire throughout the U.S. during WOMEX late last fall that a major new world music star had been discovered in a showcase: Yemen's Ravid Kahalani and his band Yemen Blues. The group, mostly based in Israel, appeared in New York at Le Poisson Rouge on March 9th at the tail end of their U.S. tour and their impact was stunning.
One of the very first to discover Yemen Blues early last year, Leigh Ann Hahn, Director of Programming with Grand Performances in Los Angeles, made these keen observations about the group: "Discovery and evolution are two of world music's most important ingredients and it has been fascinating, and rewarding to witness Ravid and the band's internal and external growth. Their debut performance at the Babel Med conference in Marseille (March, 2010) was in a word, stellar. The nearly acoustic melodies, vocals and rhythms' purities held the audience entranced. Evolution was apparent at WOMEX last October. The deep soul of the music and commitment of the band hadn't changed, but compared to my first experience, the ensemble, as an organism was a little gangly, a little awkward. This month's gig during their tour was a revelation.
Ravid's dancing, Omer's arrangements, the bright brass, the lush strings and the driving percussion – created an energetic juggernaut that had the crowd dancing firmly in the palms of Yemen Blue's collective hands as they offered this current incarnation of their art. I am certain this band will be a discovery each time they perform."
The world music realm has many greats today, yet Yemen Blues clearly has the promise, the stage presence, the delivery, and cohesive originality in sound that can already match quality-wise, the greatest. Led by the utterly charismatic Ravid Kahalani, we sensed the presence of a true emerging superstar. Highest praises were earned that night by the wondrous live experience of Mr. Kahalani and his group.
The music held modernized traces of ancient Yemenite chants that Mr. Kahalani sang as a boy, while infused with Middle-Eastern and African sensibilities. Their performance unfurled many melodic and rhythmic surprises in brilliant harmonies with the engulfing sonorities of a full-blown rock stadium concert.
Stepping on stage, Mr. Kahalani gripped a microphone and sang a brief invocation in an invented language. His intense and wailing vocals immediately captivated and held the crowds in sustained thrall – a reedy tenor-pitched chant-singer with melismatic phrasings and gritty, growling undertones. Scooping up a battered olive oil can, he began to tap out the cue for his percussionists to launch into the thrashing intro for the band to start their 90 minute performance.
He was flanked by a most unusual set of musicians: a trio of string players including classically trained Galia Hai – viola; Hilla Epstein – cello; and the renowned jazz electric bassist and oud player, Omer Avital, who is also the superb arranger of Mr. Kahalani's music and lyrics; a trio of jazz 'horns,' Hadar Noiberg – flute; Itamar Borochov – trumpet; and Reut Regev – trombone; and percussionists Yohai Cohen and Rony Iwryn, carrying Middle Eastern and Afro-Latin rhythms.
It seems due to the genius composer-arranger collaboration between Ravid Kahalani and Omer Avital that such a different mix of musicians was able to pull off fascinating, unified musical harmonies and complex precisions in harmonic and rhythmic dialogues with Mr. Kahalani's lead vocals. Yet each musician is a seasoned, well-known instrumentalist with tremendous capacity to improvise and riff and stretch out each song's composition in swelling orchestrations. Hence, this was a rare world music event filled with an abundance of overall musical mastery.
Mr. Kahalani's songs are love poems and he sings them with the deep pain and ache of a blues soul-singer and the intensity of a rock star. His love for and usage of the melodies in various languages, Yemenite Arabic, Hebrew, French Creole, and what he calls his invented "gibberish," appear to be symbolic of a sophisticated world view towards his hopes for humanity's unity. It's also his need to bridge languages, to reach the listener through sheer feelings and illuminate "something basic to everyone… the gift of soul that God gave to each person." "I want to start a 'good revolution.' People need to see the good in humanity, not the negative, and to discover so many beautiful things in the world," he noted in interview later.
As intriguing as his voice and sound and occasional self-accompaniment on the plucked guimbri (Moroccan bass lute), were his dance and movement improvisations. Lithe and agile, he seemed as if possessed by the band's music. It rippled through his body as he shuddered and shook his shoulders, with the kind of grace similar to dances one sees in parts of East Africa. As someone remarked, "The music dances Ravid."
In contrast to the rock sound dimensions of Yemen Blues live in concert, their self-titled CD will be released this summer and it's acoustic in presentation. It's a beauty, full of innovation, and sure to score high on the year's world music charts. It's a classic too, probably one of the best of the decade. It's just a matter of time that we might even hear Yemen Blues on a great film soundtrack. They're that good. Ravid Kahalani and Yemen Blues will return stateside during the summer festival circuit. Don't miss them for anything.
For a taste of the Yemen Blues live experience watch Michal Shapiro's video shoot of the band during their New York City performance at at Le Poisson Rouge:
Yemen Blues at Le Poisson Rouge, NYC from Michal Shapiro on Vimeo.