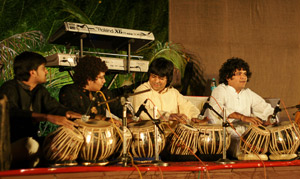 Indian tabla comes center stage in the hands of the young, highly trained musicians of Talavya, a quartet that revels in the tabla's hidden potency as a rhythmic and melodic musical instrument capable of expressing just about anything. Touring North America in spring 2011, the ensemble, formerly known as Tabla Ecstasy, distills the age-old spirit and practice of tabla into a high-energy, highly accessible evening that reveals the instrument's true joys. Dates include concerts in Atlanta, Albuquerque, San Jose, Portland and New York.
The ensemble will be joined by accomplished Kathak (North Indian classical) dancer Jin (JoungJin) Won, who is also a tabla player, storyteller, and teacher, for several performances, reflecting the deep unity of music and movement in Indian tradition.
"Our only goal is to present Indian classical arts in a contemporary language that can be enjoyed by more people," explains Rushi Vakil, performer and group leader. "The language of tabla is really graceful, full of different tempos, energies, and emotions. All the shades of music can be found in it."
Talavya is the brainchild of Pandit Divyang Vakil, a tabla maestro and master teacher who gave up a successful performance career to dedicate himself to guiding students and composing music. The son of a philosopher and a Montessori-influenced teacher, Vakil, affectionately and respectfully known as "Guruji," began playing tabla at age three and takes an unorthodox approach to his tradition and his teaching. In an unusual move, he studied with masters from gharana, or lineages, drawing on each in shaping his own direction.
This direction focuses on the demanding technical aspects of Indian classical performance-the precision required to evoke nuanced moods and ideas. To get to the requisite level, the group rehearses constantly, learning to feel each other's phrasing within the precise rhythmic cycle of the classical tradition. In the world of Indian classical music, there's no such thing as practicing too much.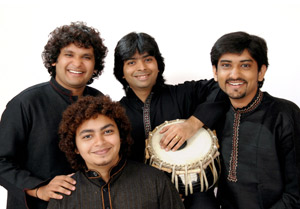 As Guruji's compositions blossomed, he and his students realized they needed to bring their tabla performance approaches under one name, Talavya. The ancient Sanskrit word embraces both the rhythmic cycle ( taal) and pulse or tempo (laya) vital to Indian classical music and dance.
Though tabla ensembles are a relatively new development, Talavya applies the same rigor to their performance as they would to a classical piece, insisting on split-second perfection and pitch-perfect tuning of their drums. Though they can play with the spark and passion of a rock drum solo, the accompanying harmonium and their honed rhythmic sense keeps their playing grounded in the cycle of beats their forbearers played in for millennia.
Yet within this technical excellence, Guruji also encourages each student to find a distinctive voice. This touch means the performers of Talavya let their personalities shine in concert. Mop-topped Sahil Patel rarely stops smiling and looks for the lighter side of the music, while the young Rahul Shrimali takes things more seriously. Rushi Vakil, Guruji's son as well as his student, loves jazz, is a keyboardist and world music composer, while Kaumil Shah teaches djembe (and loves transferring Indian classical rhythms to the African drum). These broader horizons and varied influences keep the group's perspective fresh and open to other musical possibilities.
Dancer Jin exemplifies this diversity. Korean-born, she came to India 15 years ago from a career in the theater, intrigued by the rigor of the Indian approach to expressive movement. After studying English for several months, she traveled the country. Jin fell in love with Kathak, the highly percussive classical form that emerged as dance-based storytelling which moved from Hindu temples to the Persian-influenced Muslim courts of the Moghuls.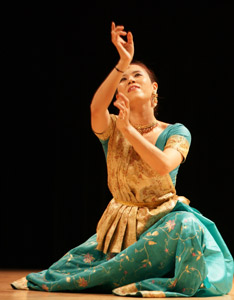 Kathak is not only based on storytelling, but also rhythm as the dancer complements and competes with the rhythm created by the accompanying tabla player. Not content with the basic understanding of rhythm and tabla imparted to dancers, Jin instead devoted herself to intensive engagement with the instrument, under Guruji's guidance, making her a rare performer (few women play tabla, and few tabla players dance Kathak). Her dedication and skill have won her the admiration of classical choreographers and Indian audiences. (Jin eventually wrote a textbook on tabla).
The intensity and generosity of Talavya and Jin keep to the spirit of Indian classical art, which is about devotion and not entertainment, while expanding its palette and its audience. Each performance moves between rousing peaks and slower, smooth meditative passages not usually associated with percussion. It engages the pure sonic energy of Indian traditions, the narrative possibilities of drums and dance, and the wide-open spaces for improvisation, creativity, and personal expression Indian arts offer.
It's not uncommon to catch audience members-from teenage hipsters to cosmopolitan professionals-bopping along to the pulse, or in tears or in awe after the hour-and-a-half-long journey through different tempos and timbres.
"People don't expect the feelings involved, perhaps because they don't think rhythm can do the same things emotionally as melody," explains accompanying artist Heena Patel. "As Guruji tells us, you smooth out the edges and perfect the contours, otherwise it's just drumming. You have to make music out of the instruments."
Full Tour Schedule
04/02/2011, Sat
Wayne, NJ
India Cultural Society
714 Preakness Society
Tickets: $10-$100, Doors Open: 6:00 pm, Show: 6:30 pm
Phone: 973.595.7117
04/08/2011, Fri
Macon, GA
Neva Langley Fickling Hall, McCorkle Music Building, Mercer University
Adams Street
Doors Open: 11:45 am, Show: 12:00 pm
Phone: 478.301.2748
04/10/2011, Sun
Macon, GA
Umiya Mataji Mandir
4770 Raley Road
Doors Open: 4:30 pm, Show: 5:00 pm
Phone: 478.476.9440
04/13/2011, Wed
Albuquerque, NM
The Historic El Rey Theater
620 Central Avenue Southwest
Tickets: $12-$27, Doors Open: 7:30 pm, Show: 8:00 pm
Phone: 505.242.2353
04/15/2011, Fri
Buena Park, CA
Jain Center of Southern California
8032 Commonwealth Avenue
Tickets: $20 and up,
Phone: 714.670.0890
04/17/2011, Sun
San Jose, CA
Menara Moroccan Restaurant
41 E. Gish Road
Doors Open: 5:00 pm, Show: 5:30 pm
Phone: 408.891.3479
04/22/2011, Fri
Portland, OR
Scottish Rite Center
709 SW 15th Ave
Tickets: $25, Doors Open: 7:30 pm, Show: 8:00 pm
Phone: 503.226.7827
04/23/2011, Sat
Rolling Meadows, IL
The Meadows Club
2950 W Golf Road
Phone: 847.640.3200
04/24/2011, Sun
Morrisville, NC
Hindu Society of North Carolina
309 Aviation Parkway
Tickets: $20, Doors Open: 6:00 pm, Show: 7:30 pm
Phone: 919.460.0412
04/29/2011, Fri
New York, NY
Leonard Nimoy Thalia at Peter Norton Symphony Space
2537 Broadway at 95th Street
Tickets: $15-$25, Doors Open: 7:00 pm, Show: 7:30 pm
Phone: 212.864.5400
04/30/2011, Sat
Edison, NJ
Shree Krishna Vrundavana Temple
215 May Street
Tickets: $5-$18, Doors Open: 5:30 pm, Show: 6:00 pm
Phone: 732.715.6549
05/01/2011, Sun
Loudonville, NY
Albany Hindu Temple
450 Shaker Road
Doors Open: 1 pm, Show: 1:30 pm
Phone: 518.522.4440
Author:
Angel Romero
Angel Romero y Ruiz has been writing about world music music for many years. He founded the websites worldmusiccentral.org and musicasdelmundo.com. Angel produced several TV specials for Metropolis (TVE) and co-produced "Musica NA", a music show for Televisión Española (TVE) in Spain that featured an eclectic mix of world music, fusion, electronica, new age and contemporary classical music. Angel also produced and remastered world music albums, compilations and boxed sets for Alula Records, Ellipsis Arts, Music of the World.