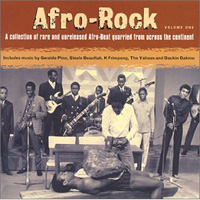 Afro-Rock, Volume 1 (Strut 059CD, 2010)
I reviewed this collection back in 2001 when the site you're looking at was called World Music Portal and Afro-Rock Volume One had been released following a lot of painstaking research and unearthing by compiler Duncan Brooker. After going out of print in 2002, it's back.
I can't remember my exact appraisal of it nearly a decade ago, so at the risk of retreading let me say that AAfro-Rock, Volume 1 is a badass collection of monster jams from the '60s and '70s, a time when African popular music was borrowing liberally from Western funk, rock and soul.
Songs like the opening "Fever" by Kenya's Ishmael Jingo and Geraldo Pino and the Heartbeats' "Heavy Heavy Heavy" were custom made for sweating it out on the dance floor while artists like Steele Beautttah ("Africa") and Mercury Dance Band ("Envy No Good") grooved to more thoughtful themes that reflected an era in which a number of African nations were becoming independent and making music similarly free from constraints.
Most of the tracks are lengthy (the 12-minute "Yuda" by Zaire's Dackin Dackino being the longest of the lot), but whether packing the funk in or stretching it out, everything here- from the pure soul of Super Mambo 69 to the charged blues highlife of Bokoor Band -is excellent. And the re-release does the original one better by throwing in an extra, untitled Ishmael Jingo song that wraps an Afro-psychedelic vibe around lyrics that urge the listener to "go out and get it." Which is precisely what you should do now that this CD is once again available.
Buy the recording
Author:
Tom Orr
Tom Orr is a California-based writer whose talent and mental stability are of an equally questionable nature. His hobbies include ignoring trends, striking dramatic poses in front of his ever-tolerant wife and watching helplessly as his kids surpass him in all desirable traits.