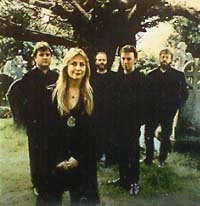 To help you celebrate Saint Patrick's Day on March 17, World Music Central has compiled a list of recent recordings that have a connection with the traditional music of Ireland. On the top of the list is Altan's excellent 25th Anniversary Celebration album on Compass Records. The renowned contemporary Irish folk band plays some of its best material with new arrangements together with the R.T.E. Concert Orchestra.
Another legendary Irish band, The Chieftains, in collaboration with American guitarist Ry Cooder, takes Irish music south of the United States border with San Patricio (Spanish for St. Patrick). San Patricio tells the nearly forgotten story of the brave San Patricio battalion – a downtrodden group of Irish immigrant conscripts who deserted the U.S. Army in 1846 to fight on the Mexican side against the invading Yankees in the Mexican-American War (1846-1848). San Patricio includes guest appearances by Linda Ronstadt, Liam Neeson, Van Dyke Parks, Lila Downs, Los Tigres del Norte, piper Carlos Nuñez and many others.
Kíla represents a younger generation of Irish musicians, who blend traditional music with global beats. Their new album is titled Soisín. For this occasion, Kíla decided they should record music to reflect, rest, daydream and even cry to. Kila will be celebrating St. Patrick's Day in Dublin's Olympia Theatre this March 17th. The band will be joined by some very special guests that have not been revealed yet.
Another top Irish trad band, Dervish is celebrating St. Patrick's in 2010 with a new March release titled From Stage to Stage. The new CD and DVD set features live material from concerts in Sebastopol 2009 in California and Sligo Live 2006. The DVD was recorded live in Dublin in 2007.
Manchester (England) based band The House Devils brings an hour of foot-stomping and infectious Irish songs and instrumental sets on Irish Folk: Adieu to Old Ireland. The band line-up includes Mat Walklate: flute, harmonica, vocal, whistle, uilleann pipes; Andrew Dinan: fiddle, banjo; Matt Fahey: vocal, guitar; and Anthony Haller: double bass. The songs: 'By the Hush,' 'The Month of January,' 'Naomi Wise,' 'The Flower of Finea,' 'The Charladies' Ball,' 'Handsome Molly' and more. Complete lyrics are included in the booklet.
Julie Fowlis is Scottish, but she works with Irish musicians and sings in Scottish Gaelic. Her latest album, Uam (From Me), is one of the finest Celtic recordings released in the past weeks.
The latest edition of the Celtic Woman series, Celtic Woman 4 includes some contemporary female Irish singers. The album focuses on the ballad side of the Celtic music spectrum.
In the area of unusual collaborations. Irish singer Susan McKeown joins forces with Lorin Sklamberg in Saints & Tzadiks, combining Irish and Jewish songs featuring vocals and accordion.
American Celtic music trio Goldenbow has a new album titled Celtic Love Songs. The group specializes in the Celtic music of Ireland and Scotland (as well as Wales, Cornwall, The Isle of Man, French Brittany and Spanish Galicia).
Originally a religious holiday to honor St. Patrick, who introduced Christianity to Ireland in the fifth century, St. Patrick's Day has evolved into a celebration for all things Irish. The world's first St. Patrick's Day parade occurred on March 17, 1762, in New York City, featuring Irish soldiers serving in the English military. This parade became an annual event, with President Truman attending in 1948. The U.S. Congress proclaimed March as Irish-American Heritage Month in 1995, and the U.S. President issues a proclamation each year.
Author:
World Music Central News Department
World music news from the editors at World Music Central