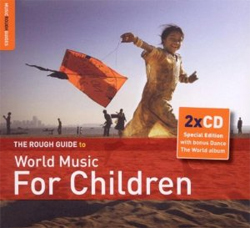 The Rough Guide To World Music For Children (RGNET1236CD) will be released today. The world music collection includes Ska Cubano, LA-33, Amsterdam Klezmer Band, Saba, Ayhan Sicimoğlu, Roge, Chris While and Julie Matthews, Country Gentlemen, David Lowe's Dreamcatcher, Los Fulanos Feat. Peret, Mabulu, Michael McGoldrick, Hanggai, Marcelinho Da Lua, Jose Conde y Ola Fresca, and Dean Martin.
"The Rough Guide To World Music For Children was conceived with an ear for what's been tried and tested (with our own families as well as with others'), demonstrating to children that there is life outside the TV and computer screens when it comes to interesting music," said the record company press release. "From African dance music to the wonderful blue-grass-party sound of Country Gentlemen and beyond, these songs are aimed at the pre-teen, post-nursery age group. It's our hope that this selection will prick up young ears sufficiently for them to seek out and explore similar music."
Formed by Peter Scott and Natty Bo of the London ska band Top Cats and featuring leading West African trumpeter Eddie Thornton, Ska Cubano blend East Cuban and Jamaican music. The infectious 'Malanga Ska', featured here, was remixed by DJ Floro, one of Madrid's leading worldbeat club DJs.
Germany's nu-jazz collective Club Des Belugas have had their music featured in commercials for BMW, Jaguar and the German national soccer team, to name but a few, and this remix of 'Mambo Italiano' is the first worldwide legal remix of any Dean Martin track and is an absolute classic.
Regarded as one of the greatest Irish flautists of our time, Michael McGoldrick founded Toss The Feathers and Flook, two leading progressive-traditional Irish bands, and has worked with the likes of Capercaillie and Senegalese superstar Youssou N'Dour. This track is taken from the album that won him the Musician of the Year Award, on BBC Radio 2's Folk Awards.
One of a new breed of DJs from Rio De Janeiro, Marcelinho Da Lua adds live effects, vocals, percussion and even brass sections when scratching. 'Papo De Yaya' is an intoxicating mixture of Jamaican ska, drum-and-bass and jazz horns.
Jose Conde and his outstanding ten-piece band Ola Fresca have brought salsa funk to the forefront of the New York Latin scene and 'Café Con Sangre' harnesses modern funk, soul and hip-hop to the basic Cuban clave.
One of Spain's top funk bands, Los Fulanos blend touches of Latin soul, búgalú and rumba-flamenca, with a cameo appearance from Peret, the septuagenarian 'King of Catalan Rumba', on 'Gato'.
Amsterdam Klezmer Band evolved rapidly on the back of frequent and riotous live shows on Amsterdam's streets, parks and pubs. They offer some dancefloor action with their postmodern Jewish wedding knees-up 'Sadagora Hot Dub'.
Rooted in the Inner Mongolian grasslands, Hanggai's otherworldly country/roots music is filtered through the urban influences of Beijing. They infuse traditional throat-singing into their punk-rock roots.
Born in Mogadishu, Somalia, Saba was a successful television actress before her debut album, Jidka (The Line), revealed her talent for mixing acoustic guitars and koras with traditional African and contemporary percussion.
Mabulu are a multi-generational collective who showcase popular Mozambican music from the last thirty or more years, often with a contemporary hip-hop or dancehall fusion.
Buy the album:
Author:
World Music Central News Department
World music news from the editors at World Music Central