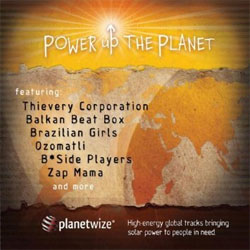 Power Up The Planet, a new compilation CD by cause-based music company Planetwize, is a mix of 14 global fusion tracks from top international artists, including Thievery Corporation, Brazilian Girls, Zap Mama, B-Side Players, Balkan Beat Box, Ozomatli and more. From reggae and Latin to electronic and Afrobeat, every song on Power Up The Planet taps into the theme of energy, empowerment, and hope.
With tracks in English and Spanish, the funky benefit project is about spreading power, enough to run a radio or mobile phone or to have a little light. To this end, every download or physical CD sold helps SolarAid fight climate change and poverty, by training people in poor communities to harness the power of the sun. With successful projects in Tanzania, Malawi, Zambia and Kenya, SolarAid brings solar lanterns, mobile phone and battery chargers to rural and remote communities throughout Africa, replacing dangerous and expensive kerosene lanterns with clean, renewable power.
The Power Up The Planet global release precedes the United Nations Climate Change Conference set to start December 7th, in Copenhagen. "The global climate negotiations need a funky musical injection," says Planetwize Founder Dan Porras. "There are still 1.6 billion people on this planet without electricity. There needs to be more focus on affordable, renewable energy solutions for the poorest people. That is what SolarAid does, and we hope Power Up The Planet can help their cause."
Power Up The Planet will be available in digital and physical CD versions at Power Up The Planet. The physical CD comes in completely "green" packaging made of recycled cardboard, printed with soy-based ink; the CD tray is made from recycled plastic bottles and the wrap is biodegradable.
Author:
World Music Central News Department
World music news from the editors at World Music Central