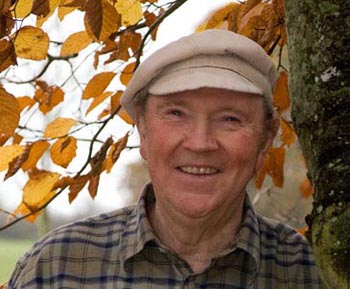 Irish folk icon Liam Clancy passed away December 4 of 2009 at 12 noon in Bon Secours Hospital, in Cork, Ireland. Liam Clancy was the last surviving member of the legendary Irish folk group The Clancy Brothers.
Liam was born in Carrick-on-Suir in County Tipperary, Ireland. While still in his teens, Liam explored writing and painting, although he was particularly drawn to Theatre. Before he was twenty years old, Liam had founded the local dramatic society and had produced, directed, set-designed, and starred in J. M. Synge's "The Playboy of the Western World".
In 1955, American song-collector Diane Hamilton Guggenheim arrived at the Clancy home while on a song-collecting tour of Ireland. Liam joined her on her tour and, on a visit to Keady (County Armagh), they met the singer Sarah Makem and her son Tommy. Both Liam and Tommy emigrated to the United States of America the following year, pursuing careers in acting, both on stage and television.
Liam began singing with his brothers at fund-raising events for the Cherry Lane Theatre and at Woody Guthrie benefits. The Clancy Brothers & Tommy Makem, began recording on their own Tradition label in the late 50's. A record breaking 16 minute long performance on the Ed Sullivan Show launched the group into stardom. The quartet recorded numerous albums for Columbia Records and enjoyed great success during the 1960's folk revival.
In 1973, Liam left the group to pursue a solo career. He moved to Calgary, Alberta (Canada), where he became an established television performer. Liam had his own series, which won a Canadian Emmy Award. A guest spot by Tommy Makem on the show led to a reunion with his old pal. As Makem & Clancy, the two recorded many albums which included several hits such as "The Band Played Waltzing Matilda" and "The Dutchman". They toured and recorded together until the late 80's.
After his brother Tom's death in 1990, Liam joined his brothers Paddy and Bobby and nephew Robbie O'Connell, though he still performed some shows with his Fayerweather Band as well as with the Phil Coulter Orchestra. From 1996-1999, Liam toured with his son, Donal Clancy, and Robbie O'Connell. The group, known as Clancy, O'Connell & Clancy delighted audiences across North America and Europe. They released two highly praised albums together.
The album The Wheels of Life documents the work Liam Clancy had been doing in recent years and includes a version of Shane McGowan's autobiographical tune "The Broad Majestic Shannon" and a rendering of Paul Brady's classic "Follow On". There are also duets with two of Ireland 's finest female vocalists, folk singer Mary Black and rock singer songwriter Gemma Hayes. The Wheels of Life ends with three bonus live tracks featuring guest appearances from Donovan and Tom Paxton joining Liam's regular musicians Kevin Evans and Paul Grant with members of traditional Irish band Danú including singer Muireann NicAmhlaoibh and fiddler Daire Bracken.
Most recently, Liam Clancy moved back to Ireland and performed as a solo act (usually backed by musicians Paul Grant and Kevin Evans and occasionally by Danu) at theatres and festivals across North America, Ireland and the rest of Europe. He also ran a recording studio located on Helvic Penninsula in Waterford County, Ireland, overlooking scenic Dungarvan Bay. The later Clancy Brothers albums were recorded here, as well as the recent releases of Liam Clancy, O'Connell, & Clancy, Danú, Martin Murray, Joannie Madden, Canadian band McGinty, Warp Four, etc.
Liam Clancy is survived by his wife Kim and their four children, Eben, Siobhan, Donal and Fiona, his 8 grandchildren and his sisters Joan and Peg.
Author:
World Music Central News Department
World music news from the editors at World Music Central