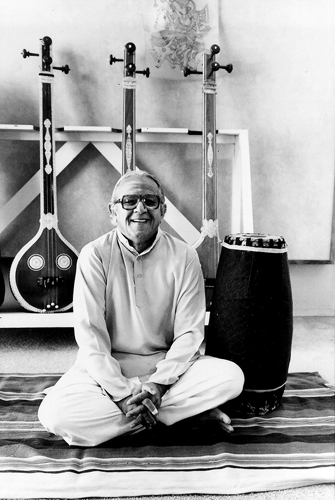 Ramnad V. Raghavan, a widely respected performer of the Karnatak (south Indian classical music, also known as Carnatic>) mridangam and long-time member of the Wesleyan University music faculty, died in Chennai, India on November 21st after a long illness.
Raghavan was born June 19, 1927 in Madurai, Tamil Nadu, India. He came from a distinguished family of musicians that produced, among others, his brothers Ramnad V. Krishnan (vocalist 1918-1973) and Ramnad Easwaran (mrdangamist) and internationally known violinists L. Subramaniam and L. Shankar.
Sri Raghavan learned mridangam from his brother Ramnad Easwaran, a student of C.S. Sankarasivam. He served as Artist in Residence in Music at Wesleyan University from 1970-1975, and again from 1988-2000, teaching South Indian drumming.
In the years between his Wesleyan appointments he lived in Cleveland, where he was a founding organizer of the internationally renowned Cleveland Aradhana and was an adjunct instructor at Oberlin College. "During his years at Wesleyan Sri Raghavan was a popular and patient teacher who worked with hundreds of students, some of whose careers were profoundly influenced," said Dr. Zoe C. Sherinian, Associate Professor of Ethnomusicology at the University of Oklahoma.
While he was dedicated to the highest ideals of Karnatak music, and had accompanied the greatest Karnatak musicians, he also performed in East-West fusion ensembles including Sakthi led by guitarist John McLaughlin.
Some of his students included Glen Velez, Jamey Haddad, David Nelson, Patricia Shehan Campbell, Frank Bennett, and Joseph M. Getter.
He is survived by his wife Sarada and a son and two daughters, Chandru, Mala, and Viji. Chandru and Mala live in the Middletown (Connecticut) area. A memorial will be held at Wesleyan University on Sunday, December 13, from 2-4 p.m.
Sources: Dr. Zoe C. Sherinian and World Music Central
Author:
World Music Central News Department
World music news from the editors at World Music Central