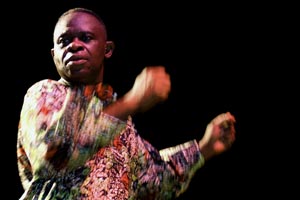 The MP3 for "Les Gorilles des Montagnes" by Samba Mapangala will be available for listening and downloading at myspace.com/sambamapangala and drop.io/GorillaSong/page. The song is a partnership with World Wildlife Fund (WWF) to aid in protection of endangered mountain gorillas of the Congo's Virunga National Park.
The upbeat dance song was commissioned by WWF to increase awareness of conservation in the Congo Basin, "Les Gorilles des Montagnes" (The Mountain Gorillas) begins with the still-stunning, instantly recognizable a cappella prelude to Samba's 1981 hit "Tolinga Virunga" (We Love Virunga). But then the beat drops into a beautiful new melody and lyrics telling of the need to preserve the rare mountain gorillas and their fragile environment, and expressing gratitude to the park rangers who risk their lives daily to prevent poaching and illegal charcoal production.
WWF will use this music to reinforce its efforts in East Africa and Congo, especially in the Goma and Bukavu regions where years of war and turmoil have impacted the gorillas' habitat in the Virunga mountains, home to around half of the world's remaining 700 mountain gorillas.
Visit the World Wildlife Fund's site for information on efforts to save the mountain gorillas: http://www.worldwildlife.org
Samba Mapangala and Virunga have upcoming festival appearances at the Richmond Folk Festival (Richmond, VA) Oct. 9-10, and the Shakori Hills Grassroots Festival, Pittsboro, NC, on Oct. 11.
Author:
World Music Central News Department
World music news from the editors at World Music Central