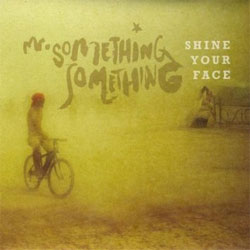 On the new Mr. Something Something record the band members wanted to capture, as much as possible, the energy and the improvisations that characterize their live performances. As a result, they recorded majority of the tracks on Shine Your Face in one single day at Toronto's famous Metalworks studio where gold and platinum record awards for artists like David Bowie, Bruce Springsteen and Prince line the corridors.
Shine Your Face was produced by Mr. Something Something's own John MacLean and mixed by Scott Lake who has worked with Sam Roberts, Kathleen Edwards, The Stills and countless other great recording artists. The album features two Canadian trumpet icons who have worked with the "Somethings" in the past; Kevin Turcotte, a five-time Trumpeter of the Year at the Canadian National Jazz Awards and Brian O'Kane (Diana Krall, Aretha Franklin).
The mood on Shine Your Face is at times dark but always hopeful. The first line of album opener The Antidote sets the tone: "When the news is bad I need you to remind me that the urge to create beauty can't be contained", channeling the sentiments of a generation faced with the bill for their parents' excesses. Only The Maker is an attempt to come to terms with the cruel injustices of the world. Make Your Mind is a calm enumeration of horrors carried out in the name of God.
City of Sand is a feverish vision of societal breakdown. Why Why Why explores the physical and emotional landscape of suburbia, from above and within, whereas What Are You Waiting For poses a question that elicits responses tinged with guilt or longing. Many of the songs describe spaces where humanity seems to be absent, be it in a war-torn country or in the soulless, manufactured landscapes of box store desolation. Ultimately, Shine Your Face is a plea to fill these vacant spaces with love and compassion, with joy and creativity, with wisdom and meaningful work.
Author:
World Music Central News Department
World music news from the editors at World Music Central