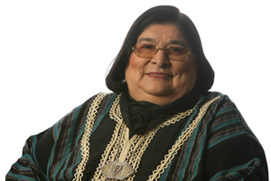 One of the most popular Argentine folk singers, Mercedes Sosa, died today in Buenos Aires of liver disease. She was 74.
Mercedes Sosa was born in San Miguel de Tucumán – the capital of one of Argentina's smallest provinces – on 9 July 1935 and given the name Haydée Mercedes Sosa. For many years, she lived in central Buenos Aires. Family members called her Marta, a nickname bestowed by her mother; but music lovers around the world preferred to call her simply, with affection and intimacy, "La Negra" – a term Argentines often use for people of indigenous heritage.
After humble beginnings growing up in San Miguel de Tucuman, Mercedes Sosa spearheaded a traditional music and dance movement with her husband called Nuevo Cancionero which declared the materialization of protest music across Argentina and Chile. She served as a political figure of sorts by speaking out for the poor Argentines against military dictatorship and oppressive conditions.
In 1966, Sosa recorded Yo no canto por cantar, beginning a 33 year career with PolyGram Records while continuing to record political music banned from radio broadcasts. Viewed as a serious threat to Argentina's military regime, Sosa was searched and arrested on stage at a concert in La Plata in 1979. After receiving a series of death threats she was forced into exile seeking refuge in Paris and Madrid, where she finally settled, but persisted touring the United States, Europe and Brazil.
Sosa made a triumphant return to Argentina in 1982, several months before the military regime collapsed as a result of the Malvines (Falklands) War, and gave a series of concerts at the Opera Theater in Buenos Aires. A live double album made up from these performances became an instant best seller.
In 2005 she released Corazon Libre, produced by renowned musician, vocalist and arranger "Chango" Farias Gómez with Jorge Giuliano (her long-time accompanist) contributing his talents along with leading folk guitarists Luis Salinas, Eduardo Falu, and Alberto Rojo.
Through the years she continued to impress fans and critics alike. Mercedes Sosa also won several Latin Grammy Awards in the Best Folk Album category- Misa Criolla (2000), Acustico (2003), and Corazon Libre (2006).
Author:
World Music Central News Department
World music news from the editors at World Music Central