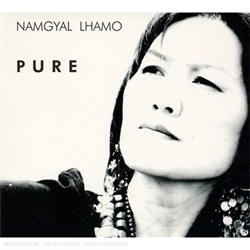 Namgyal Lhamo
Pure (Silk Road/Le Maquis/Harmonia Mundi)
One is often confused when listening to a genre for probably for the first time. Especially, when it comes from a performing artist who has been actively lying in the shadow for over 2 decades with hugely popular concerts across Europe and suddenly decides to burst onto the World Music scene with a piece of work and a simplicity designed to stun and catch the listener unaware and even more when her simultaneously released Enchanted Land sits across the shelf boasting of high energy and progressive world grooves that are a polar opposite to " Pure." What a Paradox!
Post her first album "Songs from Tibet" (Music and Worlds) and after a 5 year gap; Netherlands based Tibetan traditional singer Namgyal Lhamo's new album Pure (Silk Road/Deep Emotions) released in Europe by Harmonia Mundi/Maquis Music is as good as it can get. The natural sound of the album recorded in the Highlands and structured by Bangkok based Englishman and Hollywood recordist Tim Beale of the Hitso group is truly path breaking.
Empty your mind of pre-conceived notions, and you'll be able to appreciate a work of art like this. Lhamo is unaccompanied on this album, other than a few tracks where she plays the dranyen (Tibetan lute) and gyumang (Tibetan celesta) herself, and her performance is sublime. If you don't feel the space created by Lhamo immediately, put the CD on repeat, and you'll gradually see the mastery of her craft emerging, and understand the beauty of what is before you. The CD begins with the transparent "Ohm Mah Hung," a prayer rich in spiritual essence, a track recorded against absolutely sacred atmospheric motifs that are both organic and ethereal. The album glides onto "Golden River" and "Plateau Breeze," instrumental gems played on the Tibetan Lute that truly justify the exclusivity and level of Lhamo's skill and talent.
Her song's grip the soul of Tibet's cultural ethos and do not dwell on a musical language that are in need of anything besides a voice and the lute to communicate emotion. The voice control, flight and throw are flawless and quit reminiscent of the discipline that Asian/Indian classical music singers exude.
The haunting loop created in Nang Tso yaya is a sure testimony to the training and sincerity with which Lhamo approaches her craft, giving it that zen-esque stature that is worth every second of listening. The album adds a totally new dimension to Tibetan traditional music , a genre that has so often in the past been the domain of singers using clichéd techniques and misconstrued presentations attempting to bridge the gap between the East and the West. Here is the real thing and here is an artist who has the personality and talent to overtake, enthrall and make a difference to your perceptions of old world sound. Truly Pure!
It is no surprise that Lhamo had been crowned Best Female Tibetan singer at the 2007 Tibetan Music Awards earlier this year.
Namgyal Lhamo's Pure is now available at Amazon.com
Buy Pure.