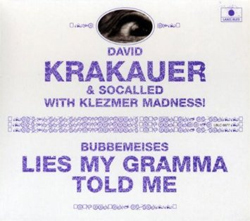 On Bubbemeises: Lies My Gramma Told Me (Label Bleu), David Krakauer teams up with Jewish hip hop beat architect Socalled. The album includes remixed Hasidic chant, klezmer tributes to James Brown.
The 2006/2007 season finds Krakauer in top form turning 50 with diverse collaborations and premieres at prestigious venues. These include a Carnegie Hall world premiere of his work with Fred Wesley (known for his work with James Brown, Bootsy Collins, and Parliament-Funkadelic), the Bubbemeises release, and the New York premiere of the string orchestra version of Osvaldo Golijov's The Dreams and Prayers of Isaac the Blind with the Brooklyn Philharmonic Orchestra.
Developing his classical and jazz chops from age 11, ten years later Krakauer was lost, musically. Early on, Krakauer realized that the most important thing a musician can do is find and express their unique and original voice. "That's why I gave up jazz!" explains Krakauer. "I admired these jazz players like Coltrane and Sidney Bechet and the originality they strove for. You'd hear one note on the radio and say 'that is Coltrane.' There's absolutely no mistaking that sound; which is something that I always prized so much. At the time I thought, 'What can I do? How can I be original?'" And that is what he has been searching for ever since."That's why the man goes through clarinet reeds like crazy. Not just wearing them out with his aggressive and emotional playing, but before they are even broken in. "I go for a really klezmer sound in my playing," Krakauer says. "When I play classical, I play with a completely different mouth piece and reed. It has a rounder, darker, more-controlled sound. My klezmer mouthpiece allows me to play with a tremendous amount of power and flexibility in timbre. It gives me a much bigger palette in terms of bending and messing with the sound. It's a rougher, edgier sound. It's throatier. It screams more. It's a mouthpiece that can cut through steel."
"When I recorded with the Kronos Quartet on an earlier project, I thought maybe I would use the classical mouthpiece," explains Krakauer. "We did a take and I wasn't happy with it. So I changed to my klezmer mouthpiece and the Kronos was like 'That's it!' They heard my klez sound really get unleashed."
"I pick reeds accordingly," Krakauer continues. "I always use the same brand and strength, but each reed is completely different. I'll go through a box of ten reeds and find one or two for each mouthpiece and put the rest aside. Some just sound better for klezmer; more expressive, more human."
This goes straight to Krakauer's klezmer philosophy. "If you don't have doyna, you don't have klezmer," Krakauer proclaims. "The doyna is a music form that comes from Romanian shepherds' songs and cantorial singing. It has a spiritual element but also this pastoral country element to it. The earth and the spiritual combined. The sacred and the profane. It's the bluesy, plaintive cry, but it also influences how you play the tunes, how you inflect and ornament the melodies. That keeps it klezmer. At a university talk recently someone implied that I have 'twisted klezmer.' I say, 'Yes, it's not klezmer like from the 1920s records. But the way I play is the most loving thing I can do to keep it alive.' Some people play klezmer technically, but they miss the klezmer sound. I want it to be klezmer, but I don't want it to stay in a museum and die."
Krakauer's intergenerational alliance with Socalled has been brewing for a few years and is part of a natural progression. "When Socalled gave me a homemade recording of what he called a Hip Hop Seder in 2001," admits Krakauer, "at first I was really skeptical. But I really reacted to this guy making his own weird, crazy, wild, messed-up-whatever, bizarre music! It's not about pasting one musical style onto another. Something else came out. I certainly would not have been able to sit at a sampler and make beats. But here's a guy that has created his own musical language since he was a teenager and I respond to his music. Socalled would tell you, 'Hip hop is all about representing, so I am going to be out there and be Jewish.'"
Krakauer had the opportunity to commission three young composers for a concert at New York City's Merkin Concert Hall, and he called on Socalled for that. One of Socalled's songs made it onto Krakauer's The Twelve Tribes CD. And he appeared on Krakauer's Live in Krakow. Over time, they worked together more and more. Socalled's appearance on Bubbemeises represents the first co-produced CD Krakauer has done.
"Socalled would come to me and say here's a beat," Krakauer describes. "Then I would write some music on top of it reacting to his thing. And my influences are as diverse as weird contemporary music and 1938 Count Basie and James Brown and God knows what else. It's not interesting to do an imitation of James Brown. But it is interesting if you come in contact with James Brown and digest it and something else comes out. That's what's been going on with my work with Socalled and my band Klezmer Madness. It's all about artistic process. Purists out there may say 'This isn't jazz or klezmer or hip hop. What the hell is it?' It's just what it is."
Buy Bubbemeises.
Author:
World Music Central News Department
World music news from the editors at World Music Central