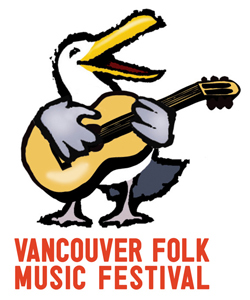 26th Annual Vancouver Folk Music Festival, Vancouver BC, Canada–July 18 – 20, 2003.
After WOMAD USA was officially canceled, I made a decision to attend the Vancouver Folk Music Festival at
Jericho Beach. This wasn't going to be the usual festival attendance, but a leap of faith for me. After all, I have
been unemployed for a year and I had to scramble for a place to stay as well as, ride shares.
As you can
imagine I was detained at the Canadian Immigrations Office, but finally allowed to enter Canadian soil. I left an
atmosphere of fear and paranoia behind to enter one of harmony, joy and fabulous music set in a park with a
panoramic view of trees, mountains and a stretch of English Bay. My memories of the festival linger in my
daily thoughts and nightly dreams. I conjure images of the perfect blend of music and nature, of the painted
Australian aboriginal musicians, of the solo folk artists, Quebecois foot tapping, the body melting sun and the
friendly festival attendees.
By the time I arrived at the festival grounds on Friday, I had missed half of the evening performance. My eyes
adjusted to the natural setting during the Lotus Ensemble's set and by the time, British folk singer Sara-Jane
Morris belted out Janice Joplin's Take Another Piece of My Heart, I shifted to a festival mood. French
troubadours Lo'Jo followed with an effervescent set of songs revealing their connection to Africa. Having seen
Lo'Jo perform at WOMAD twice and also in Seattle, it was a pleasure to see them perform on Jericho Beach.
Next up was the Cockney bard Billy Bragg who played to an extremely enthusiastic crowd despite his usual flat
vocals and dualistic anti-American sentiments. When I was in my twenties, I was a huge Billy Bragg fan and I
have lost count of how many times I have seen him perform, yet I have grown tired of non-spiritual thinking. My
mood soured after the Bragg performance and I turned in for the night.
And yet, the festival provided both spiritual and political musical acts from the Woodie Guthrie inspired set to
the celebration of the Sufi Poet, Rumi. Festival attendees had choices as they traipsed through the gorgeous
festival grounds under an unforgiving sun. Many older traditions played along side innovative groups. The
Vancouver World Music Collective blended music from the Silk Road with African, traditional Europe and
Australia's outback. I caught a glimpse of VWMC's composition while a local film crew taped a documentary
of the collective. The performance acted as a musical journey around the world and delighted the attendees of
the performance. I was impressed with the exotic array of instruments including zithers, a pipa, didgeridoo,
various drums and vocalists representing a variety of cultures.
After witnessing the Vancouver World Music Collective performance, I stage hopped between Stage 1 and
Stage 4. Quebecois accordionist Yves Lambert, Vancouverite Celso Machado, Victoria's Portuguese fado
vocalist Sara Marrieros and Ontario's Sandra Bullock look alike folk singer, Martina Sorbara shared life's
simple pleasures on Stage 1. Although all the performers delivered musical pleasures, Ms Sorbara left me
with the most memorable impression as she crooned out a bluesy tune about getting laid. It's not the subject
matter, but the musicians brazen delivery that caught my attention. Equally sexy and on Stage 4, was Indian
vocalist Suba Sankaran (Ontarian ensemble Autorickshaw) jazzy rendition of the jazz classic Caravan. Suba's
immensely talented group shared the stage with the enigmatic Harry Manx (Salt Spring Island) on slide guitar
and the Indian group Tantra (Quebec/Ontario).
Hailing from the Australian outback, White Cockatoo performed ritualistic dance, drumming and singing which
in itself proved intriguing, but was offset by a Crocodile Dundee type translator who talked through most of the
performance. Ritualistic performances are best seen when there are no interruptions. Feeling a bit
disappointed with this much anticipated performance, I headed to the Waves showcase in which Autorickshaw
hosted and appeared with Tantra and the Syrian-UK group, Abdellah Chhadeh & Nara. Virtuoso qanun player
(An Arabic 81 string hammered dulcimer), Abdellah delivered a breathtaking set of songs. And then Abdellah
later appeared on stage with British musician and journalist Andrew Cronshaw where various instruments
including oriental flutes, a shepherd's horn and a zither were brought out. The set of songs proved innovative
while allowing each performer to improvise and create a playful atmosphere.
Saturday ended on a high note after seeing the Quebecois traditional group, La Volee d'Castors storm the
stage. Despite my reluctance to dance in public, the group's infectious music had me kicking up my heels and
clapping along with the rest of the large crowd. Tantra followed with a quieter and more introspective set
reminding us about the diversity of acts at the festival.
Although Sunday was filled with miscommunication, missed connections and missed performances due to
delays at most of the 7 stages, I did manage to squeeze in a few showcases. I started my morning at the
Fiddler's Bid showcase which was hosted by virtuoso fiddler Calvin Vollrath (Alberta) and featured Canada's
fiddling talent, Daniel Lapp (Victoria), Shannon Johnson (the McDades), Rani Orbo (Daisy Mayhem) and
Darcie Deaville. Shannon shared songs about heartbreak, Darcie shared songs about childhood hardship
and Daniel Lapp offered innovative fiddling. I also squeezed in performances of Lotus Ensemble, Harry Manx,
Safa and the Toronto Tabla Ensemble. I ended my weekend with the Quebecois music showcase featuring
Yves Lambert, La Volee d'Castors and Vent du Nord. Although the sun was baking my skin by this point, all of
the musicians excuded energy as they step danced, fiddled and foot tapped their way through kitchen party
and traditional Quebecois fare.
Although I would have liked to have seen Lo'Jo perform one more time, the hot sun had taken its toll on my
body so consequently I also missed the evening performance. My overall impression of the festival is a good
one. I particularly am impressed with the festival staff's sustainable practices and their desire to tread lightly
on the planet. I have never been to a festival that has a mission of tossing less garbage in a landfill while also
sharing a diversity of musical styles with music fans. The performers are also fed well and treated with a great
deal of respect. The Vancouver Folk Music Festival, its staff, volunteers and sponsors all deserve a round of
applause.
For more information visit Vancouver Folk Festival
(compliments of Cranky Crow World Music).