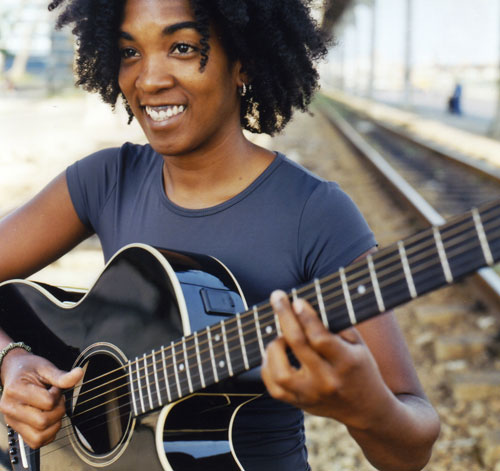 Born in the Buena Vista district of today's Playa and growing up in the modern Alamar housing community of east Havana, Yusa's childhood was spent between music and the sea, cherished by her economist mother and her sailor father whose eyes always have, 'the gaze of the sea in them.'
Yusa started with guitar, went on to Cuban tres guitar, piano and bass. She was influenced by Spanish and North American pop and jazz as by 'nueva trova' and son.
What inspired her debut album were the vital creative years spent jamming in the hallways and classrooms of the Amadeo Roldan Conservatory exchanging musical ideas with contemporaries such as Roberto Carcasses, who was the arranger of many of the songs on Yusa. Then there was Yusa's time improvising female quintet Quasi-Jazz at El Zorro y el Cuervo', the basement night club on Havana's central La Rampa street which has been at the cutting edge of Cuban jazz since the early 20th century.
A key phenomenon of 1990s Cuba was the emergence of contemporary duos revitalizing in totally unexpected ways the older fashion of singing two part harmony with guitar. In the same way as Gema and Pavel had before them, Yusa and Domingo became a sensation in the small corner bars and neighborhood clubs where for centuries new Cuban musics have always been dreamed up.
Discography:
Yusa (Tumi Music, 2002)
Breathe (Tumi Music, 2005)
Haiku (Tumi Music, 2008)