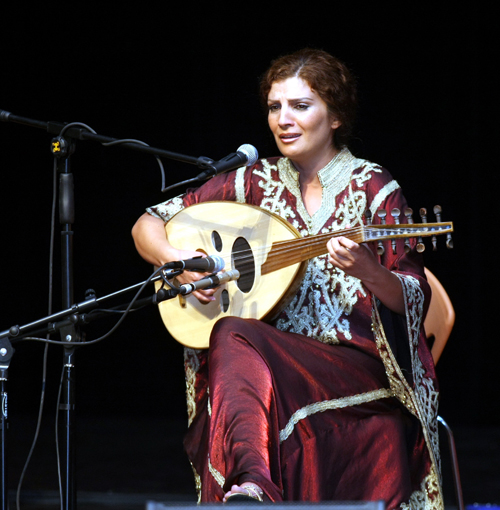 Syrian singer and 'ud player Waed Bouhassoune was born in 1979. She has a voice of such quality that is rarely encountered one of the most famous voices of Arab song of the last thirty years. Her voice immediately brings to mind that of Umm Kalthum or Asmahan but even though she was born in the same town as the latter it can only be Waed's voice.
Ever since her first audition in Aleppo the specialists (sammaines) immediately recognized her talent: she was symbolically authorized to perform in public in Paris at the Maison des Cultures du Monde and at the Institut du Monde Arabe. Her success was immediate and she was hailed by the press as a revelation.
Returning to Syria, Waed gave a series of concerts notably at the Damascus Opera. In 2006 she was invited to the Festival of Assilah and the Madinah Festival in Tunis before touring France.
In 2010 Waed Bouhassoun moved to Paris.
Discography:
La voix de l'amour (Institut du Monde Arabe, 2009)
L'âme du luth (Buda Musique, 2014)
La Voix de la passion, with Moslem Rahal (Buda Musique, 2016)