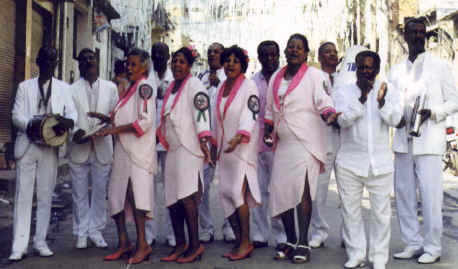 The Velha Guarda da Mangueira was created in 1956. The founders of the group, Carlos Cachaça, the great Cartola, and Aloisio Dias were legends of the pure samba tradition, and their foundation represented one of the most time-honored samba schools in Rio de Janeiro (and therefore Brazil). Ever since the Velha Guarda undertook the double task of promoting the artistic potential of its community, celebrating the memory of great old-time sambistas such as Carlos Cachaça, Padeirinho, Babaú, Zagaia, Cartola, Aloísio Dias, Nelson Cavaquinho, to name but a few… Not to mention launching new tunes from valuable newcomers in the samba field.
Composed of 12 Mangueira born musicians, all of whom carried their neighborhood deep in their hearts, the group had Tia Zélia, Érivá, Zenith, and Sônia to lead solo and alternate chorus vocals and on the instrument section, Miguel on the pandeiro, Mocinho on the reco-reco, Génuino and Ari on the tamborim, Quincas on the cuíca and ganza, Zézinho on the surdo. In addition to mastering their instruments, all members sang along. Two special guests also joined the party, Valdir Silva as the prodigious cavaquinho player, and Josimar Monteiro, state of the art musical director, who also plays the 7 string guitar. Even though some songs are true innovations, the musical arrangements always stood in the pure Mangueira tradition. Thus safe-keeping the original sounds and authentic resonant power of genuine roots samba.
The group's live shows included acclaimed hits like "Folhas Secas" by Guillerme de Brito, "sei lá Mangueira" by Paulinho da Viola and Herminio Belo de Carvalho, "Minha Festa" by Nelson Cavaquinho and Guillerme Brito, "Corra e Olha o Céu" and "Alvorada" both by Cartola, Herminio Belo de Carvalho, and Carlos Cachaça. The group also plays less notorious sambas that audiences love hearing and learning. The Velha Guarda also presents cherished samba songs which most audiences don't know coming from the legendary Mangueira. Songs like "tenha pena de mim" by Babaú and Ciro de Souza, later recorded by Beth Carvalho, or many others by Nelson Sargento, are sure to keep you dancing.
Discography:
Chico Buarque & Velha Guarda Da Mangueira (BMG Brasil, 1998)
Velha Guarda da Mangueira e Convidados (Nikita Music, 1999)
75 Anos – Mangueira Definitiva (2003)
Velha Guarda da Mangueira (Som Livre, 2008)