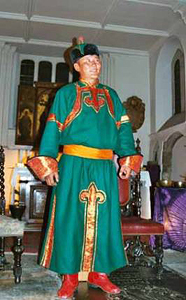 From remote west Mongolia came a master of one of the most remarkable vocal traditions on the planet. One person sings two different pitches at the same time. It is the sound of the wind blowing in sympathetic vibration with Black Water Lake and echoing through the eternal snow capped peaks and valleys of the Jargalant Altai Mountains.
Listening to Tserendavaa, a maestro Khoomii (Overtone or Throat) singer as this style is called, you can simultaneously hear a clear flute/whistle like melody, which has arisen from a strong low guttural drone. In singing this Khoomii melody inspired by the sound of nature, Tserendaava has understood the nature of sound, overtones or harmonics.
Tserendavaa is a living tradition, unlike the recent rock/classical influenced throat singing groups that have been touring Europe in recent years. He was born and still lives and breathes the sounds of the legendary landscape of Khoomii. He is respected within his community as a performer and teacher of his seven styles of Khoomii and has been a key informer for both Mongolian and European ethnomusicologists.
Michael Ormiston, who was taught by Tserendavaa in Mongolia in 1993, and Candida Valentino, one of the only European woman to have traveled to Mongolia to learn this remarkable art, invited Tserendaava to perform and teach Khoomii in Europe. Tserendavaa in return asked them to perform in concert with them and to assist in the teaching of Khoomii.
The concerts and workshops were the first collaboration between Mongolian and British Musicians in Europe.
Tserendavaa arrived at Gaunts House in Dorset England directly from Mongolia. The workshop (Friday evening 21st- Sunday 23rd June 2002) was a great success with Tserendaava giving individual tuition for most of the afternoon. He was invited by Don Conreaux to give a blessing to the Starhenge that he was creating in the grounds.
The first concerts were in London (June 26th & 27th 2002) with two sold out evenings at the beautiful St Pancras Old Church. The concerts were totally acoustic and were warmly welcomed by an enthusiastic audience. A film and audio recording were made of the concert, which hopefully will be available in the near future.
June 29th/30th were the London workshops at The SOAS Department of Music. Again these were a great success. Tserendavaa's work rate and enthusiasm for teaching almost surpassed his need to have a smoke.
The rest of the tour was a great success with a radio session for BBC world routes, library recordings with Extreme Music, concerts and workshops in Dublin, Paris, The Airvault Festival, Edinburgh and finally the Hebridean Celtic Music Festival!
Chandman' Song is the first CD dedicated to Tserendavaa's Khoomii singing. You can hear Tserendavaa sing traditional Mongolian melodies in his six styles of Khoomii, including his unique Hosmoljin Khoomii, which is a combination of singing words and overtones at the same time! He accompanies himself on the Morin Khuur (Horse head fiddle), the Tobshuur (2 string west Mongolian fretless lute) and metal & bamboo mouth harps.
The CD ends with a unique demonstration and lecture in which Tserendavaa explains and demonstrates about khoomii practices and his six styles of khoomii: Uruulyn (Labial) Khoomii, Tagnain (Palatal) Khoomii, Khamryn (Nasal) Khoomii, Bagalzuuryn (Throat) Khoomii, Tseejin khondiin (Chest cavity) Khoomii and his unique Hosmoljin (Combination of singing words and overtones at the same time).
Discography:
Chandman' Song – Traditional Mongolian melodies sung in Khöömii (Overtone Singing)
Xoomij Overtone Singing from Mongolia, with Tsogtgerel (Buda Musique)