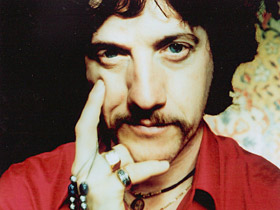 Thierry "Titi" Robin was born August 26, 1957 in Rochefort Sur Loire, France. Titi Robin is a self-taught musician. He built his personal musical universe by borrowing instinctively from various musical sources, his two main sources of influence being the Gypsy and Silk Road cultures. These two communities welcomed him warmly, the French mainstream music world not understanding his approach at the time.
Community celebrations were a way for him to test the validity of his original approach of music, taking his inspiration from these strong traditions without ever simply copying them. His two main masters at the time were Spanish flamenco cantaor Camarón de la Isla and Iraqi 'ud master Munir Bachir.
On March 2004, after a career spanning more than 20 years, with more than 600 live performances and 92.000 records sold, French label Naive presented Alezane, the definitive anthology of Thierry Robin with 35 tracks, including 11 unreleased tracks, presented in a luxurious 2 CD digipack with a full color 28p booklet richly illustrated with photos and original drawings by Eric Roux-Fontaine.
Alezane's 2 CDs are a selection made over 12 years of recordings but actually derive from 25 years of composing music. "In my previous albums, I always tried to blend dancing themes and more intimate ones. Here, on the contrary, we have selected the tracks according to two categories : the rhythmic tunes (CD1 : Le jour / daytime) and the slower ones (CD2 : la nuit / night-time). The real challenge is to show the path I follow as a contemporary musician, inside an artistic system which imposed itself on me rather than being of my own choosing. I want to express pain and joy, the lonely words and the collective exchanges, all the colors and the perfumes that circle around me and penetrate me. I have invited Eric Roux-Fontaine to design this anthology. He is a painter and a photographer, who has been involved in Gypsy cultures for about ten years. He accepted to entirely create the package for this double album."
Discography:
Duo Luth et Tablâ, with Hameed Khan (Playasound, 1986)
An Henchou Treuz, with Erik Marchand (Ocora, 1989)
An tri breur, with Trio Erik Marchand (Silex, 1993)
Gitans (Silex, 1993)
Le regard nu (Silex, 1996)
Payo michto (Silex, 1997)
Kali gadji (Silex, 1998)
Un ciel de cuivre (Naïve, 2000)
Rakhi (Naïve, 2002)
Alezane (Naïve, 2004)
Ces vagues que l'amour soulève (Naïve, 2005)
Olé (Naïve, 2005)
La Mentale (Naïve, 2006)
Anita (Naïve, 2006)
Kali Sultana (Naïve, 2009)
Jaadu, with Faiz Ali Faiz (Accords Croisés, 2009)
Les Rives (Naïve, 2011)
Taziri, with Mehdi Nassouli (2015)