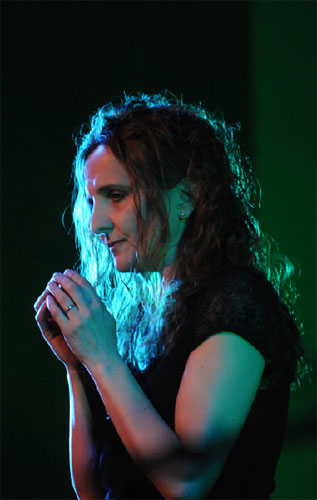 One of the most important artists on the Croatian music scene, Tamara Obrovac was born in 1962 in the Croatian city of Pula. This singer, flutist, and composer has become very popular in the past few years due to the influence of the Istrian folk music that has been the creative force of her works. Istria is a North Adriatic peninsula in a beautiful Croatian region, particular for its musical and dialectal tradition.
The folk music from Croatia's coastal region of Istria is known for its own ancient and distinctive scale as well as a suite of unique instruments which evolved in conjunction with it.
Known for her highly aesthetic performances, Obrovac's interpretations are suffused with spontaneity, inventive improvisation, freedom, humor and the ability to communicate with the audience.
By the beginning of the 1990s, the war in former Yugoslavia caused Obrovac to return to her native Istria. Untouched by war, where she dedicated herself to her own musical progress and prepared her first album entitled Triade, issued in 1996.This was a compilation of sorts, in which she presented three areas that were most present in her work at the time: jazz standards, original jazz compositions, and compositions inspired by Istrian folk music. With this material she introduced a fresh and a new way of thinking about Croatian jazz scene.
A stylistically more refined album entitled Ulika followed, on which all her compositions are sung in dialect. This is an exceptional work of unusual strength, distinctiveness, intellectual and spiritual expression with the roots, habits, folklore, language, music and spirit of Istria.
Obrovac is enthusiastically praised in the Croatian press for the way she uses the works of Istrian poets in her music and indeed her own talents as a poet. In addition to her international concert activities she has also composed for ballet and theater, film and even cartoons. She is also a member of the International Balkan Winds Ensemble and the multi-cultural Balkan Horses Band, which currently also includes well-known musicians from Bulgaria, Romania, Turkey, Macedonia, Greece and Serbia.
Discography:
Triade (1996)
Ulika (CBS, 1998)
Transhistria (Cantus, 2001)
Sve Pasiva – All fades away (Cantus, 2003)
Crni Kos (Kusztrich & Hrvatski centar Be, 2006)
Daleko je (Aquarius Records 2005)
Necu više jazz kantati – I won't sing jazz any more (Aquarius Records, 2009)
Madirosa (Aquarius Records / Cantus 2011)
Ulika revival (Unit Records 2014)
Canto amoroso (2015)