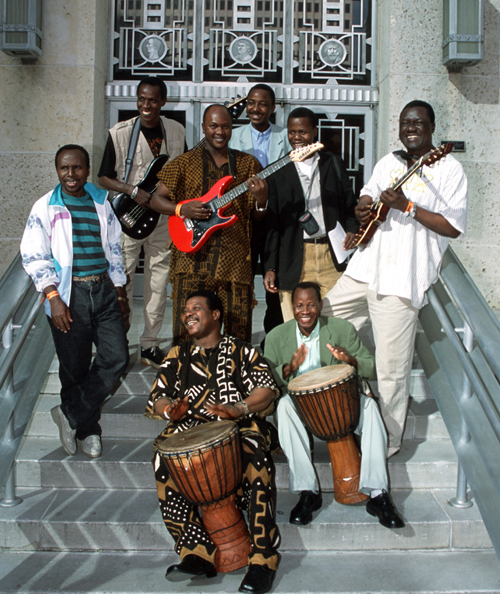 The legendary band that has been an institution in Mali since the late 1960s, Super Rail Band, mixes traditional African instruments with electric guitars, led by the mesmerizing presence of singer and guitarist Djelimady Tounkara.
The Super Rail Band was born out of a Malian government subsidy in the 1950s for local groups to integrate indigenous folk traditions into their music, including Manding jeli songs and hunting songs, which the band mixed in with its Afro-Cuban dance rhythms, electric guitars and trap drums. For years, the band anchored a lively international scene at the dance bar operated by the Mali Rail Company at the railway station in Bamako, Mali's capital.
The Super Rail Band served as an important launching pad for the careers of numerous West African musicians, including kora player and singer Mory Kante, and guitarist Kante Manfila. The Rail Band became legendary because it nurtured Mory Kante and Salif Keita. The two singers went on to solo fame. But even without its famous singers, Tounkara is one of the genre's most charismatic performers.
Head of orchestra, saxophonist – Kabiné Kéïta
Percussionist – Bamba Dembélé
Arranger, guitar solo – Djéli Mady Tounkara
Vocals – Bamory Kouyaté, Modibo Diabaté, Abdoulaye Traoré
Drums – Maguett Diop
Tumba – Lassana Bagayogo
Guitar – Fanta Mady Kouyaté
Guitar – Foligni Kéïta
Saxophonist – Mamadou Ouédraogo
Discography:
Sunjata (Bärenreiter-Musicaphon, 1970)
Melodias Rail Band du Mali (Kouma, 1976)
Concert "Rail Band" du Mali (Kouma, 1976)
Orchestre du Buffet Hôtel de la Gare de Bamako (, 1977)
Affair Social (Sacodis, 1979)
New Dimensions in Rail Culture (Globestyle, 1985)
Super Rail Band de Bamako/ Djougouya Magni (Indigo, 1994)
Mansa (Indigo, 1996)
Kongo Sigui (Indigo, 2003)