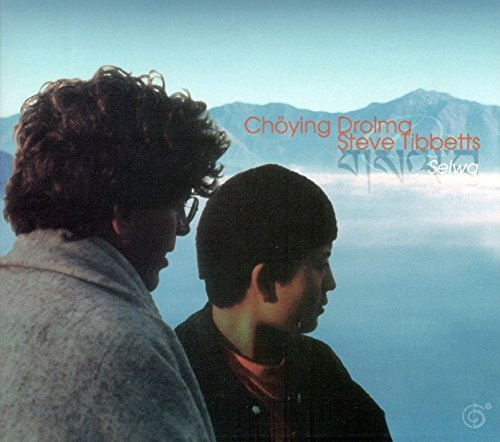 San Francisco, California, USA – In their Six Degrees Records debut, Steve Tibbetts and Chöying Drolma have released a new recording, called Selwa, which expands on the work they began in their first groundbreaking album, Chö.
Selwa (which can mean "luminous," "clear," or "awake") is an album with 11 tracks, but it unfolds as a single, unified expression.  Chöying Drolma practices a form of Vajrayana Buddhism that involves cutting through the various physical and spiritual obstacles to enlightenment (the title Chö means "cutting"), and that practice can take the form of a fairly vigorous meditation, often undertaken in provocative settings like graveyards.
Tibbetts approaches this sort of source material with an uncommon humility and a healthy amount of respect.On Selwa, Tibbetts establishes his panorama of sound early on, with the moody, nocturnal instrumentation of "Palden Rangjung."  Its flowing ambient acoustic guitar, drones, effects, and slow, almost tribal hand drumming echo the dark vision of Drolma's supplication:
Powerful blood drinker, glorious vitality
In the land of Yama, you are Ekajati
Fire eater, blood wearer, wearing the naga emblems
Kali, the Blood Dripper, I praise you.
Chöying Drolma's singing on the track "Vakritunda" reflects both the sounds of devotional Hindu bhajans and contemporary Hindi pop music.  "Vakritunda" is a piece with slightly more Western-sounding percussion and an example of the guitar solos that sneak into much of Steve Tibbetts' work.
Perhaps the centerpiece of the album is "Song of Realization," a blend of multiple voices, hand drums, acoustic and electric guitars, and other less easily identified sounds.  It is at once a transcendent and grounded work – again, because it follows the text of the aspiration prayer:
I do not recognize this earth as earth
It is an assembly hall adorned by flowers.
I do not recognize me to be me
I am the supreme victor, the wish-fulfilling jewel.
The new album was built around recordings made by Tibbetts and his longtime percussionist Marc Anderson in Boudhanath, a Tibetan enclave in the Himalayan country of Nepal.  There, not far from a school for nuns that Chöying Drolma has founded, they recorded her chants, often feeding a drone into her headphones to set the pitch before letting the tape roll.  "It seemed like she was singing with four lungs," Tibbetts recalls.  "Some of her takes left Marc and I somewhat stunned.  She'd finish the song.  I'd quickly save the recording file on the laptop.  Chöying would say 'Tik chha?' – meaning, 'it's okay?' and Marc and I would slowly nod."
Back in Minnesota, Tibbetts and Anderson wove together tapestries of acoustic and electric guitars, shifting drones, and subtle hand percussion.   They enlisted the support of Lee Townsend, who has produced most of Bill Frisell's recordings, and created an organic blend of ancient and modern, Eastern and Western.
Perhaps the most impressive thing about Selwa is that the musicians know "why they are doing it."  On the surface, it seems a bizarre collaboration: Why would a pair of American musicians want to spend the time and effort to learn these chants and create a sonic environment that brings them to the West?  Again, the answer lies in the text of one of the aspiration prayers.  The concluding lines of "Song of Realization" read:
If you understand this song, it will be molasses for
your ears.
If you cannot understand it, you have no connection with
this song.
Selwa is about understanding – not a literal understanding of the Tibetan meditations themselves, but an understanding of the practice of undermining the machinery of conceptualization; creating a space of non-thought, clarity, compassion, and bliss. Selwa offers an unexpected connection to a tradition that's over a thousand years old.