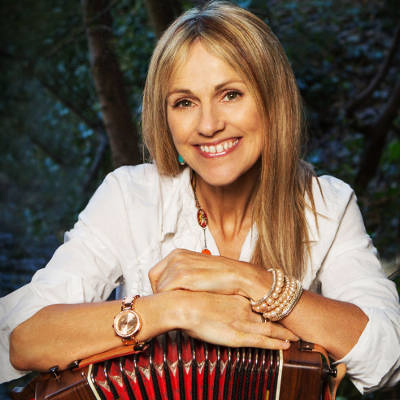 Sharon Shannon is one of the most adventurous musical spirits to emerge from Ireland in the past years. The accordion player has made a huge impact on the traditional music scene, boldly crossing musical borders with humor and flair. Born in Corofin, County Clare, Sharon was immersed in traditional music from the start. "I never heard any music other than jigs or reels until I was 12 or 13," she recalls.
Sharon began playing tin whistle at the age of seven, with her sisters Mary on banjo and Majella on fiddle, and brother Gary on flute. Her versatility was evident by age eleven, having expanded her repertoire to include fiddle and the two-row button accordion, her signature instrument. In her early teens, she headed to Doolin in North Clare, a Mecca for Irish traditional music. It was there that she honed her art, learned from the masters, and soon made an impression. Steve Wickham of the Waterboys was taken with her style, and invited her to tour with the band, which led to her recording on their Room To Roam (1990) album.
Sharon has collaborated with some of the finest musicians around the world. In the late 1980s, she played in the Irish act Arcady, with singer Frances Black and bodhran player Johnny McDonagh. She has since worked with such prominent artists as Donal Lunny, Natalie Macmaster, Dennis Bovell, Adam Clayton of U2, and Liam O'Maonlai of the Hothouse Flowers.
Sharon's debut album, Sharon Shannon (1991), was immediately celebrated as a critical marker in Irish folk history. Infectious and bright, imbued with the native culture but also aware of global possibilities, the album gave Sharon a rising popularity across the festival circuit. Her shows on the acoustic stage at the major English festival of Glastonbury were fervent testimonies to the power of a two-row Castignari button accordion in full effect. In 1992, she was included on the record A Woman's Heart, which celebrated Ireland's female performers. This became the island's biggest-selling album, and Sharon's subsequent tours were warmly received.
Her second album, Out the Gap (1995, Green Linnet), was graced by the hand of Dennis Bovell, a reggae luminary who produced five tracks from his home in Brixton. Again, the rate of invention was impressive as Sharon found a common bond between Celtic and West Indian styles, as well as showcasing her more traditional tunes.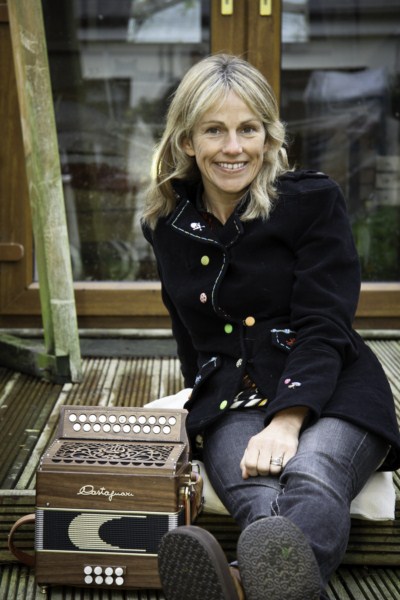 On Each Little Thing (1997, Green Linnet), Sharon continued her exploration of world music, interpreting songs by artists as varied as Grace Jones, Fleetwood Mac and the Chilean group Inti-Illimani. Produced by Donal Lunny, the album features the phenomenal talents of singer Kirsty MacColl and Australian-Irish guitarist Steve Cooney.
Sharon's album, Spellbound: The Best of Sharon Shannon (1999, Green Linnet), represents a decade of recordings, including five previously unreleased tracks. Like her earlier works, Spellbound's Irish tunes are accented with those of Jamaica, Finland, Portugal and Cape Breton. The selections not only reflect Sharon's diverse repertoire, but also reveal the joy that is seemingly inherent in her playing.
In addition to her work as a solo artist, Sharon has recently been a featured artist with the Donal Lunny Band, and has performed at the White House before President Clinton. Her concerts attract children, senior citizens, rockers and ravers, folk die-hards and newcomers alike, all glad to participate in her uplifting and enthralling world party.
Sharon's band was known as the Woodchoppers.
Discography:
Sharon Shannon (Solid Records, 1991)
Out The Gap (Green Linnet, 1994)
Each Little Thing (The Grapevine Label, 1997)
Spellbound (Green Linnet, 1999)
Live In Galway (The Daisy Label, 2001)
The Diamond Mountain Sessions (The Grapevine Label, 2000)
Libertango (The Daisy Label, 2003
Tunes (Keltia Musique, 2005)
Live At Dolans (The Daisy Label, 2006)
Upside Down ‎(The Daisy Label, 2006)
Renegade (The Daisy Label, 2007)
Saints & Scoundrels (Compass Records, 2009)
Flying Circus (Irish Music Licensing, 2012)
In Galway ‎(IRL, 2014)
Sacred Earth ‎(Celtic Collections, 2017)