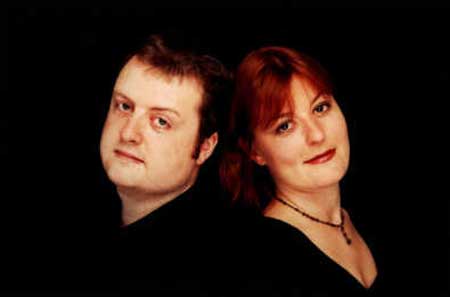 Although well established as a duo Bachue, has expanded to include the fantastic percussion talents of Edinburgh-based drummer Donald Hay. The unique combination of electroharp, piano, voice and percussion has dazzled and mesmerized audiences wherever they play.
Corrina Hewat and David Milligan first performed as Bachue back in 1996, originally appearing with percussionist Davy Cattenach (then with The Old Blind Dogs) and fiddler Kenny Fraser. The band has performed and recorded with various line-ups since then, but for the most part it's Corrina and David's duo format that has earned their enviable reputation as one of the Celtic music scene's most innovative groups.
For the new album, The Butterfly, Bachue joined forces with jazz trumpeter Colin Steele, whose warm, lyrical sound complements the band's unique sound perfectly.
Discography:
The Butterfly
A Certain Smile
Bachué Café