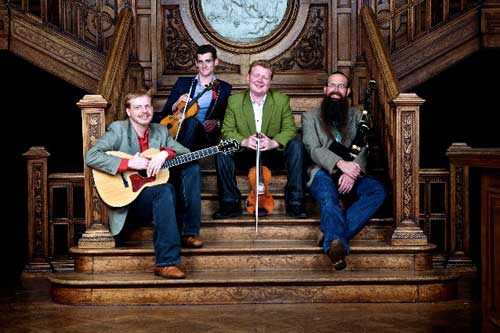 Battlefield Band plays Scottish music of rare passion and joy. Inspired by their rich heritage of Celtic music and fired by the strength of today's Scottish Cultural scene (which they themselves have done much to create and fuel), Battlefield Band mix the old songs with new self-penned material, and perform them on a unique fusion of ancient and modern instruments – bagpipe, fiddle, synthesizer, guitar, cittern, flute, bodhran and accordion.
This is the gold standard, the band against which all others are measured. After 3 years they still lead the way for Scottish music — introducing new musicians, new music; always involving their ever widening audience, as they travel the world.
In 22 the band welcomed back Pat Kilbride. A member of the band in the mid-seventies, and featured on the classic album At The Front, this was his second stint on the Battlefield. In the intervening years, this fine musician and singer has toured with Kips Bay and recorded a highly regarded solo CD.
Dookin' was released in 27. Dookin' is the Scottish word for what you do at Halloween – as in 'dookin' for apples. This is a reference to what Battlefield Band has been doing for all these years, Dookin' into the great pool of Scottish and Irish music and song.
Battlefield Band founder Alan Reid describes the group's 29th album Zama Zama… Try Your Luck: "This album started as a collection of songs and tunes about gold. But as we searched, like the alchemists of old, it turned into a wider idea. In the process we saw the greed, disasters and victories inherent in the search and exploitation of various sources of wealth in this world. Then, as if by demonic serendipity, along came the worldwide economic crisis. We watched the major banks, insurance companies and Hedge Funds etc., implode, discrediting the entire financial system and many of its managers and advisers – but there was still more to come. We, in Britain, could only stand and watch aghast as many Members of Parliament, and the House of Lords at Westminster, the Mother of Parliaments' were exposed for their cynical misuse of the expenses system, often amounting to fraud. As we put this album together we have been amazed, angered, depressed and hilariously horrified."
Line-up came out on the 18th August 2011. The musicians featured in the recording include a new member, fiddler and piper Ewen Henderson, from the Highlands of Scotland. The lineup at the time was Sean O'Donnell on Vocals, Guitar, Cittern; Ewen Henderson on Fiddle, Bagpipes, Vocals, Piano; Alasdair White on Fiddle, Whistle, Bouzouki, Bagpipes; Mike Katz – Bagpipes, Whistles, Bouzouki, Guitar, Bass, Vocals; and a special appearance on harmonica from Scottish bluesman Mike Whellans
Discography
Battlefield Band (1977)
At the Front (Temple Records, 1978)
Stand Easy (Temple Records, 1979)
Preview (Temple Records, 198)
Home is Where the Van Is (Temple Records, 198)
The Story So Far (Temple Records, 1982)
There's a Buzz (Temple Records, 1982)
Anthem for the Common Man (Temple Records, 1984)
On the Rise (Temple Records, 1986)
Music in Trust Vol 1 (Temple Records, 1986)
After Hours: Forward to Scotland's Past (1987)
Celtic Hotel (Temple Records, 1987)
Music in Trust Vol 2 (1988)
Home Ground – Live From Scotland (1989)
New Spring (Temple Records, 1991)
Quiet Days (Temple Records, 1992)
Opening Moves (Topic Records, 1993)
Farewell to Nova Scotia (Escalibur, 1996)
Threads (Temple Records, 1995)
Across the Borders (Temple Records, 1997)
Live Celtic Folk Music (Munich, 1998)
Rain, Hail or Shine (Temple Records, 1998)
Leaving Friday Harbor (Temple Records, 1999)
Happy Daze (Temple Records, 2001)
Time and Tide (Temple Records, 22)
Best of Battlefield 1976 – 2003 (Temple Records, 2003)
Out for the Night (Temple Records, 2004)
The Road of Tears (Temple Records, 2006)
Dookin' (Temple Records, 2007)
Zama Zama… Try Your Luck (Temple Records, 2009)
Line-up (Temple Records COMD214, 211)
Room Enough For All (Temple Records, 2013)
Beg & Borrow (Temple Records, 2015)
Videos
Battlefield Band – Live in Concert at the Brunton Theatre (Temple Records, 2008