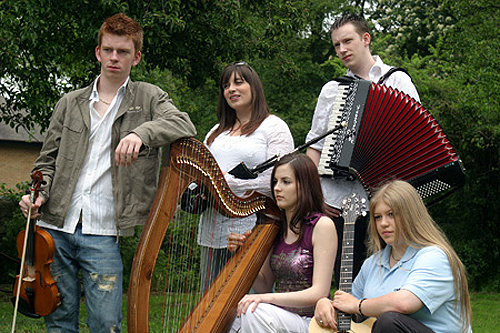 Bodega were Gillian Chalmers (Fraserburgh – pipes, whistle and fiddle); Ross Couper (Shetland – fiddle); Tia Files (Oban – guitar, bass guitar and percussion); Norrie Maclver (Isle of Lewis – lead vocals, accordion and guitar) and June Naylor (Isle of Skye – clarsach). The band formed in March 2005 and met while they were attending The National Centre of Excellence for Traditional Music, Plockton, Ross-shire. Late in 25 they won the BBC Radio 2 Young Folk Award and early in 2006 the Band signed to Greenstrax Recordings. Their debut album is titled simply Bodega.
Jack Evans, who produced the album, wrote – "Bodega is highly talented and versatile and together their music has a kind of fierce energy, imagination and joie de vivre, that you just don't hear very often. They do songs brilliantly. They do tunes superbly. They sing in Gaelic and English.
They're funky, yet respectful of traditions. They have clever arrangements. They improvise. Individually they're among the very best young musicians we have today. Collectively, they may just be the future of traditional music. Get into Bodega now, because where they lead others will follow."
Bodega disbanded at the end of 2011.
Discography:
Bodega (Greentrax CDTRAX 295, 2006)
Under the Counter (Greentrax, 2008)