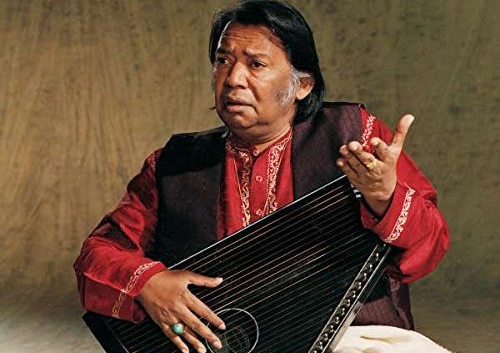 Ustad Salamat Ali Khan was born in 1934 in the Hoshiarpur district of Punjab in what was then the British colony of India. He is the father of an entire family of vocalist-musicians.
Salamat Ali Khan performed at the age of nine with his brother Nazakat Ali Khan, as the famed Ali Brothers. They were internationally renowned as superstars in the 1960's and 1970's for their immense talent and artistry in the classical form.
Now the next generation is becoming increasingly recognized for their great talents. The children are Sharafat Ali Khan, Shafqat Ali Khan, Sukhawat Ali Khan and Riffat Salamat.
Salamat Ali Khan died on July 10, 2001 in Pakistan.
Discography
A Tribute To Hazrat Amir Khusrau (EMI, 1975)
Ustad Salamat Ali Khan (EMI, 1976)
Classical Vocal (Star Cassette, 1979)
Musik Aus Pakistan: Khyal Und Tarana (International Institute For Traditional Music Studies Berlin, 1986)
Salamat Ali Khan (Nimbus Records, 1991)
Raag: Desi Todi Abhogi Kanada (Weston, 1991)
Salamat Remembers Nazakat (Magnasound, 1992)
Classical Vocal & Instrumental (EMI, 1993)
Princess Of The Sea (Keytone, 1993)
Breath Of The Rose (Water Lily Acoustics, 1993)
Raga Darbari Kanarra (World Network, 1995)
Raga Madkauns, Raga Suha Kanada, Raga Verag Todi, Raga Kalavati (Nimbus Records, 1995)
Voices Of Spheres (X DOT 25, 1997)
Durbar-E-Khaas: The Legendary Salamat Ali Khan Volume Four (Virgin, 2004)
Nida è Salamat (Navras, 2007)