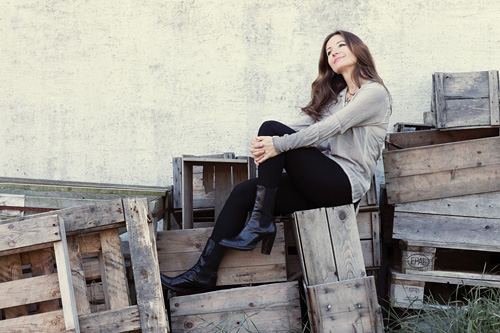 Rita Eriksen is one of Norway's best vocalists. In addition to her own career, she is frequently used by Norwegian musicians.
In 1996 she released the album Tideland with the well-known Irish singer Dolores Keane on the Kirkelig Kulturverksted record label. This was a CD that was very well received and showed that Rita Eriksen is also a master singing Norwegian traditional folk music. Rita is known for her ability to express different directions in her singing.
Rita Eriksen is half of the duo Eriksen, the other half being her brother Frank. Eriksen has released several albums, including Two Blue (MajorStudio MSCD 1113, 1992), The Water Is Wide (MajorStudio MSCD 1118, 1994) and Alt Vende Tebage (BMG Norge 743213281122, 1995) that established themselves amongst Norway's best selling artists. The record sales in Norway concerning these three records has now passed 125,000.
Eriksen received the Spellemannsprisen (the top Norwegian music award) for Two Blue and was nominated for both The Water is Wide and Alt Vende Tebage. Eriksen is frequently played on Norwegian radio.
In 2001, Eriksen began to tour as guest vocalist with Vamp, one of Norway's leading folk groups. She also collaborated with the Tramps in 2002.
In 2009 Eriksen released a Christmas album titled Velkommen inn.
Her album Øyeblikk (Moments) came out in 2014. Rita wrote most of the songs and lyrics herself.
Discography
* Two Blue (MajorStudio MSCD 1113, 1992)
* The Water Is Wide (MajorStudio MSCD 1118, 1994)
* Alt Vende Tebage (BMG Norge 743213281122, 1995)
* Tideland, with Dolores Keane (Kirkelig Kulturverksted, 1996)
* Blamandag (MajorStudio MSCD 1142, 1998)
* From the Fountain (Odeon/EMI, 2005)
* Hjerteslag (BigBox, 2008)
* De Aller Beste (Best of..)(Sony/BMG, 2009)
* Velkommen inn (BigBox, 2009)
* Øyeblikk (MayB Records, 2014)
Web Site www.ritaeriksen.no