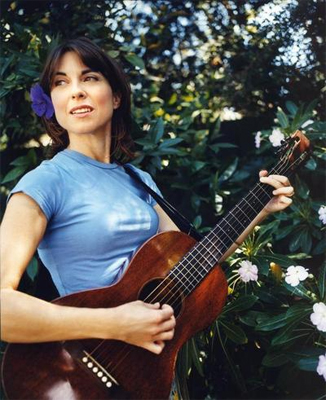 Rebecca Pidgeon, the acclaimed American actress has also displayed her gift as a singer-songwriter on her several well-received albums with Chesky Records. Pidgeon's style includes elements from folk, pop, jazz and Celtic traditions.
Rebecca Pidgeon was born October 10, 1965 in Cambridge, Massachusetts (USA). While a teenager in Scotland, music came as naturally to Pidgeon as breathing. She sang along with the radio and her parents' Beatles and Joni Mitchell records as a light escape from her demanding acting studies. In Edinburgh, a friend asked her to sing on his demo tape. "I didn't know I was a singer at all," she recalls. "At first I felt ridiculous because I hadn't trained to be a singer hadn't even planned it. I didn't feel like a genuine singer and the first songs I wrote didn't feel like real songs. It was only when people started saying to me 'That's a wonderful song' that I finally began believing I was a singer and a songwriter."
Pidgeon made two celebrated British albums with the folk-pop band Ruby Blue, shared the stage with Lyle Lovett and Van Morrison and played a series of New York gigs with Anthony Coote while she was starring in the New York stage production of Oleanna.
By the age of 23 the actress had found work in theater film and on BBC television starring with Anthony Hopkins, David Warner, Ian Holm and Dame Peggy Ashcroft. She had just played a lead in a star-strewn BBC production of Uncle Vanya when she moved to the United States in 1990 and married playwright David Mamet. "Coming to America was a huge change. I didn't have a plan in my head and I had to start all over again with both my acting and my music," she says.
After returning to the United States, Pidgeon happened to hear a Kenny Rankin album that was released on Chesky Records, the New York-based audiophile record label. "It was recorded without overdubbing and the sound was so beautiful and natural that I knew it was what I wanted. I wished to get away from the over-produced approach I'd known in England." So began Pidgeon's relationship with Chesky Records.
Her first Chesky release, The Raven featured Pidgeon's striking version of "Spanish Harlem." The Raven went on to become an audiophile classic thanks to Pidgeon's crystalline voice and Chesky's high-fidelity recording techniques. Her second album, New York Girls Club brought her unique singing and songwriting to more music lovers. "Songwriting became a very important form of self-expression for me a rich part of my life," Pidgeon explains.
While growing up in Scotland Pidgeon's father knew many Scottish songs in addition to American and British music. Pidgeon's third, Four Marys showcases Rebecca's unique interpretations of timeless Celtic folk songs.
Between album projects, Pidgeon has starred in the Mamet plays Oleanna, Speed the Plow, The Old Neighborhood and the motion pictures The Spanish Prisoner, The Winslow Boy and State & Main.
Discography:
Down From Above with Ruby Blue (1990)
The Raven (Chesky Records, 1994)
New York Girls Club (Chesky Records, 1996)
The Four Marys (Chesky Records, 1998)
Tough On Crime (2005)
Behind The Velvet Curtain (2008)
Slingshot (2012)
Blue Dress On (2013)
Bad Poetry (2014)