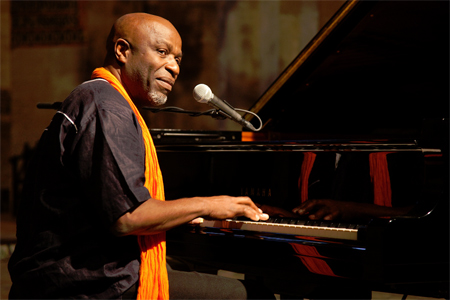 Ray Lema has long been acknowledged as one of the most innovative and creative artists in the African and world music scene. His career has brought him from the tribal enclaves of Zaire (now the Democratic Republic of Congo) to the electrified streets of Europe. It has been a whirlwind tour during which Lema has solidified his artistic stature by making some of African music's greatest recordings.
Born in Lufutoto 1946 in Zaire, his first musical training was very conservative. He did not begin learning on traditional African instruments, rather he was trained in Western classical piano at a seminary in Kinshasa. He played the church organ every Sunday and made his concert debut with Beethoven's Moonlight Sonata. In fact, Lema was planning a career in the Catholic priesthood before he fell in love with music, and he dedicated himself to more popular styles.
Lema began performing in the nightclubs of Kinshasa, lending his skills as a keyboardist to artists such as Tabu Ley Rochereau, Abeti, and Papa Wemba. He also developed his skills on the guitar, and although he was accomplished in the rumba styles developed to perfection by legendary compatriots Franco and Dr. Nico, it was Western rock that first appealed to Lema. A fan of Jimi Hendrix, The Beatles and Eric Clapton, Lema quit his classical studies in order to dedicate himself to the club circuit. Even then, Lema was the object of criticism. The music of choice in Zaire was rumba and soukous, and few of Lema's peers approved of rock music. It was clear that Lema was a visionary who was not held back by cultural norms and boundaries. His view was clearly global and cross-cultural regardless of the relatively conservative musical environment of both school and clubs.
In 1974, Lema was commissioned by the Zairean government on a daunting mission to create the Zairean national ballet. A devoted musicologist, Lema took on the task of investigating the traditional music and dances of Zaires wide range of ethnic groups, more than 250 in all. He traveled the countryside collecting rhythms and immersing himself in the diversity of his country's music. He recruited the best dancers and musicians for the national ballet and developed a reputation as a knowledgeable and respected expert in Zairean music.
A few years later, Lema formed his band Ya Tupas, which was one of the first true fusion groups of his generation. Incorporating all of Lema's diverse influences, the first album earned him a number of awards and allowed him to tour the United States. There he explored further styles like R&B, soul, funk and jazz developing his "cross-cultural cocktail" even more. In fact, Lema ended up settling for a few years in Washington DC.
In 1979, he received a grant from the Rockefeller Foundation to perform in the US, where he decided to spend some years exploring the musical mix. He recorded his first solo album in the US in 1982. Koteja was released to wide acclaim on the Paris-based Celluloid label, followed by the groundbreaking and critically praised Kinshasa Washington DC Paris in 1983.
Lema eventually moved to Europe, settling first in Brussels then in Paris where he has been based ever since. He became an active part of the European world music scene and recorded as well with pop artists such as Stewart Copeland of The Police.
Discography:
Kinshasa, Washington D.C. Paris (Celluloid, 1983)
Medecine (Celluloid, 1985)
Nangadeef (Mango, 1989)
Gaia (Mango, 1990)
Ray Lema, Professeur Stefanov* Et Les Voix Bulgares De L'Ensemble Pirin (Buda Records, 1992)
Euro African Suite, with Joachim Kühn ‎(Buda Records, 1992)
Tout Partout (Ruda Records, 1995)
Green Light (Ruda Records, 1996)
Stoptime (Ruda Records, 1997)
The Dream Of The Gazelle (Detour, 1998)
Safi, with Tyour Gnaoua ‎(Buda Musique, 2000)
Mizila (One Drop, 2004)
V.S.N.P. (One Drop, 2012)
Riddles (Gazebo, 2016)