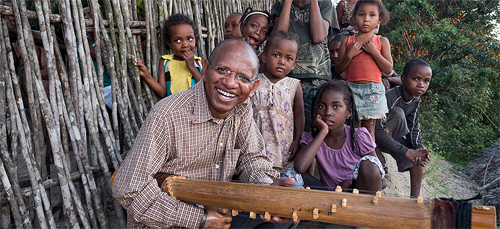 Germain Randrianrisoa, better known as Rajery is an influential singer, songwriter, composer and valiha virtuoso from Madagascar.
Despite losing all his fingers on one hand, at the tender age of 11 months, Rajery taught himself to play the valiha as a child. His valiha is a tubular zither made of bamboo with bicycle brake cables constituting its multiple strings. Through hard work and determination he mastered the instrument, developing his own technique adapted to his handicap.
By 1983 he gave his first concert to an incredulous audience, but by then Rajery was a living legend in Madagascar, where he commands huge audiences at his concerts and where, with the help of UNESCO and Handicap International, he has created a manufacturing center for the Valiha, this most typical instrument of the traditional Malagasy music.
Discovered by two French journalists who were on assignment in Antananarivo, Rajery caught the attention of world music professionals in France, who organized his appearances at concerts and festivals in France.
Now a recording star, Rajery likes to travel the world to popularize Malagasy music and the Valiha. As he says, instead of being a hindrance, his handicap is his strength, a message he wants to share with others.
His repertoire is drawn from all six regions and musical traditions of Madagascar and he sings in the Malagasy language about simple themes such as bush fires, cattle thieves, storytellers and other themes related to life on this impoverished but beautiful big island. Although local in nature, the emotion brought about by his songs and music is in fact universal.
His quartet includes Jean Charles Razanakoto (acoustic guitar), Vahiniry Rabaroelina (percussion) and Olivier Andriamampianina (bass guitar).
Rajery formed 3MA, a trio of African string instrument masters: kora virtuoso Ballaké Sissoko (Mali) and Moroccan ud maestro Driss El Maloumi.
Discography:
Dorotanety (Indigo, 1999)
Fanamby (Indigo, 2001)
Volontany (Indigo, 2004)
Sofera (Marabi, 2007)
3 MA (2008)
Tantsaha (2012)
Bedia (2014)
Anarouz, with 3MA (Six Degrees, 2018)