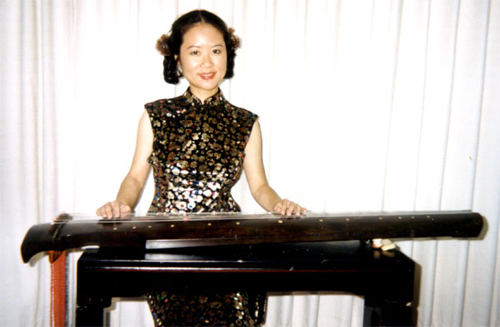 Wang Fei is an award-winning artist, published writer and accomplished musician who has toured internationally. Wang Fei was professionally trained in literature, music and art since childhood and studied with several masters in these fields. Not only is she one of the few scholars who have truly mastered the qin and who can bring qin music to a wider audience, she is also one of the few qin performers who still maintain the qin in the traditional way, as a scholarly art. Her elegant, graceful and peaceful style brings to her audiences the feeling of reading poems and enjoying Chinese landscape painting when they listen to her qin playing.
She has won several awards in the field of Chinese music and has given concerts numerous speeches, lectures, workshops and seminars on the guqin for many prestigious universities around the world as well as to the general public in China, the USA and Japan. She has written articles introducing the guqin to the public. Her music was included in an American textbook and CD on geography and music in 2003 to represent Chinese music. Not only is Wang Fei an outstanding guqin player she also organizes and promotes guqin-related activities and events.
In recognition of her achievements in cultural exchange between China and other countries, she was made an Honorary Citizen of the City of Baltimore in 1993 and a Daughter of the City of Maoka Japan in 1995. Over a hundred television radio magazine and newspaper journalists from China the USA and Japan have interviewed her and written articles about her. Her biographical profile was included in the Chinese version of "World Who's Who" in 1998 and "World Class Chinese Intellectuals in the Musical And Artistic Fields" vol. 5.
Wang Fei is the founder and director of the North American Guqin Association (NAGA), a council member of the China Guqin Committee and one of the youngest members of the qualifications committee and examiners for the national guqin grading examination in China.
Wang Fei is also a well-known author in China. She and her two sisters have been called the Chinese Bront Sisters. Their book "Three Sisters' Skies and Dreams" was a bestseller in Beijing in 1997.