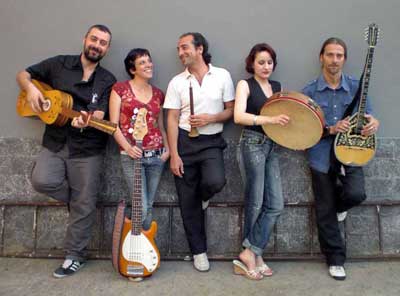 Pietrarsa is a group of musicians who have a long-standing and active relationship to the folk music of southern Italy and the Mediterranean, and who are also in tune with the most stimulating sounds and idioms in contemporary international World Music.
The Pietrarsa CD and live performance project embraces both new and traditional songs (tammurriate, tarantelle, pizziche, solo singing). Traditional material is performed in a style faithful to the folk idiom, even though the group is engaged in a conscious attempt to 'rethink' this kind of music; the new songs aim to be aware of the traditional style, but evoke in both music and lyrics the process of mutation and contamination which is taking place within the melting pot of the southern Italian traditional milieu in the era of globalization.
Pietrarsa's musical new repertoire is written by Mimmo Maglionico, a classically-educated flautist who later approached traditional folk music through collaborations with Eugenio Bennato, Peppe Barra and other prestigious names in the Neapolitan scene. He has also worked with Moni Ovadia, Gilberto Gill, Angel Parra, Luis Sepulveda composed music for television and recorded for recording companies like Cgd, Fonit Cetra and EMI.
Song lyrics are by Giovanni Vacca, who has already written lyrics for the group Spaccanapoli, and who has a long-standing engagement in the field of traditional folk culture, about which he has published books and critical essays.
The Pietrarsa line up features a range of instruments including bass, drums and percussion, ethnic and traditional instruments, guitars, etc.
The group includes Cristina Vetrone and Lorella Monti: singers, multi-instrumentalists, and dancers, they have long been involved in music projects such as the Nuova Compagnia di Canto Popolare, theatre and dance (Ater balletto, Gubelkian Ballet of Lisbon), and they help to guarantee that Pietrarsa delivers a powerful live performance.
The name Pietrarsa alludes to the site not far from Naples where an industrial plant was installed after the construction of the first Italian railway from Naples to Portici in 1839: a place close to that Neapolitan hinterland which is still so rich in ancient traditional music, and a name which evokes both the rhythms of peasant drums and those of modern industrial civilization.
Mimmo Maglionico: flutes, bagpipe, saxophone; Cristina Vetrone: vocals, accordion, tammorra; Lorella Monti: vocals, tammorre, castanet; Carmela Di Costanzo: vocals, castanet; Nicola De Luca: drum and percussion; Roberto Petrella: acoustic guitar, chitarra battente; Pasquale De angelis: Electric Bass; Alfonso Laverghetta: Sound engineer and keyboards.
Discography:
Napoli World Style (Alfamusic, 2009)
Pietrarsa (Alfamusic, 2013)
Mille volte meglio briganti (Italy Sound Lab, 2017)