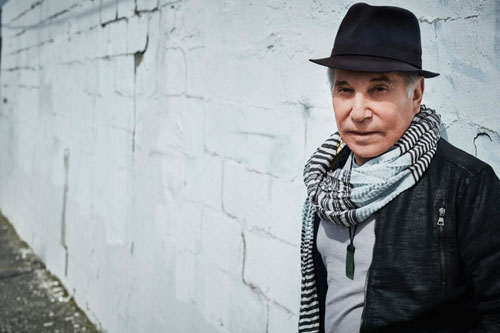 Folk singer Paul Frederic Simon was born October 13, 1941 in Newark New Jersey. His music career started in Forest Hills High School when he and his friend Art Garfunkel began singing together as a duo occasionally performing at school dances. In 1964 Simon and Garfunkel got signed by Columbia Records. Their first LP, Wednesday Morning 3 AM was released in 1964.
The first album didn't do very well so Simon moved to England where he released The Paul Simon Song Book in 1965. He returned to the United States to reunite with Garfunkel. They recorded several albums that had considerable commercial success, including Sounds of Silence (1965); Parsley, Sage, Rosemary and Thyme (1966); Bookends (1968); The Graduate soundtrack (1968); and Bridge Over Troubled Water (1969).
Paul Simon's early relationship with world music was clearly visible in Bridge Over Troubled Water which featured an Andean song called "El Condor Pasa."
Simon and Garfunkel disbanded in 1971. Simon released a solo album titled Paul Simon in 1972. Subsequent albums included "There Goes Rhymin' Simon" (1973) that contained the hit songs as "Something So Right", "Kodachrome", "American Tune" and "Loves Me Like A Rock."
In 1975 Paul Simon released "Still Crazy After All These Years" featuring the hit single "5 Ways to Leave Your Lover." The next albums were "Greatest Hits Etc." (1977) and "One Trick Pony" (1980). The One Trick Pony recording, Simon's first album with Warner Bros. Records was also paired with a major motion picture of the same name, with Simon in the starring role. The hits dried up by the time he released Hearts and Bones (1983).
Paul Simon's commitment with the USA for Africa project led him to perform on the famine relief fundraising single 'We Are the World." The Africa connection continued in 1986 with the Grammy-winning "Graceland", which featured South African vocal ensemble Ladysmith Black Mambazo. His fascination with rhythm continued in 1990 with "The Rhythm of the Saints" that included Brazilian sounds.
On May 9 2006, Warner Bros. Records released "Surprise," Paul Simon's first release since 2000, which was produced by Simon, and in collaboration with Brian Eno. Said Paul Simon: "Working with Brian Eno opens the door to a world of sonic possibilities; plus he's just a great guy to hang with in the studio", or for that matter in life. I had a really good time." Surprise includes contributions from musicians including Steve Gadd, Herbie Hancock and Bill Frisell.
During his distinguished career, Paul Simon has been the recipient of many honors and awards including twelve Grammy Awards three of which (Bridge Over Troubled Water, Still Crazy After All These Years and Graceland) were albums of the year. In 2003 he was given a Grammy Lifetime Achievement Award for his work as half of the duo Simon and Garfunkel.
He is an inductee of The Songwriters Hall of Fame and is in the Rock and Roll Hall of Fame both as a member of Simon and Garfunkel and as a solo artist. He was a recipient of The Kennedy Center Honors in 2003.
Of Simon's many concert appearances he is most fond of the two concerts in Central Park in New York (with his partner and childhood friend Art Garfunkel in 1981 and as a solo artist in 1991) and the series of shows he did at the invitation of Nelson Mandela in South Africa-the first American artist to perform in post-apartheid South Africa.
Paul Simon's philanthropic work includes the co-founding of The Children's Health Fund (CHF) with Dr. Irwin Redlener. The CHF donates and staffs mobile medical vans that bring health care to poor and indigent children in urban and rural locations around the United States. Simon has also raised millions of dollars for worthy causes as varied as AMFAR, The Nature Conservancy The Fund for Imprisoned Children In South Africa and Autism Speaks. In 1989 The United Negro College Fund honored him with its Frederick D. Patterson Award.
On May 23rd 2007, Simon was the recipient of the first annual Library of Congress Gershwin Prize for Popular Song. Named in honor of George and Ira Gershwin, this newly created award recognizes the profound and positive effect of popular music on the world's culture and will be given annually to a composer or performer whose lifetime contributions exemplify the standard of excellence associated with the Gershwins.
Discography:
Wednesday Morning, 3 A.M., with Simon & Garfunkel (Columbia Records, 1964)
The Paul Simon Songbook (CBS, 1965)
Sounds of Silence, with Simon & Garfunkel (Columbia Records, 1966)
Parsley, Sage, Rosemary and Thyme, with Simon & Garfunkel (Columbia Records, 1966)
Bookends, with Simon & Garfunkel (Columbia Records, 1968)
Bridge over Troubled Water, with Simon & Garfunkel (Columbia Records, 1970)
Paul Simon (Columbia Records, 1972)
There Goes Rhymin' Simon (Columbia Records, 1973)
Paul Simon in Concert: Live Rhymin' (Columbia Records, 1974)
Still Crazy After All These Years (Columbia Records, 1975)
One-Trick Pony (Warner Bros. Records, 1980)
The Concert in Central Park, with Simon & Garfunkel (Warner Bros. Records, 1982)
Hearts and Bones (Warner Bros. Records, 1983)
Graceland (Warner Bros. Records, 1986)
The Rhythm of the Saints (Warner Bros. Records, 1990)
Paul Simon's Concert in the Park (Warner Bros.Records, 1991)
Songs from The Capeman (Warner Bros. Records, 1997)
You're the One (Warner Bros. Records, 2000)
Live from New York City, 1967, with Simon & Garfunkel (Columbia Records, 2002)
Old Friends: Live on Stage, with Simon & Garfunkel (Warner Bros. Records, 2004)
Live 1969, with Simon & Garfunkel (Columbia Records, 2008)
Surprise (Warner Bros. Records, 2006)
So Beautiful or So What (Hear Music, 2011)
Live in New York City (Hear Music/Concord, 2012)
Stranger to Stranger (Concord Records, 2016)
Paul Simon – The Concert in Hyde Park (Sony Legacy, 2017)