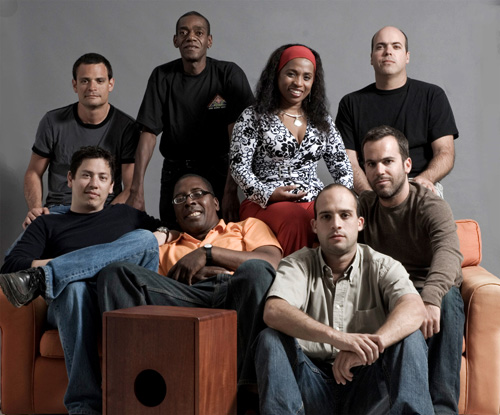 Novalima is a collective of four Lima-based producers: Ramón Pérez Prieto, Rafael Morales, Carlos Li Carrillo and Grimaldo del Solar. They combine the rich musical traditions of Peru with subtle electronic textures, bass tones and drums. The result is a fascinating percussive framework that includes acoustic musical instruments along with cutting edge digital sounds.
Novalima uses traditional instruments such as the native cajón, quijada, and congas to compliment programmed beats, funk-inspired bass lines, and contemporary piano melodies.
The founders of Novalima became friends while in high school in Lima. The children of artists and intellectuals, Ramón, Grimaldo, Rafael and Carlos were well-educated and well-traveled, and while they grew up listening to the popular and folk music of Latin America, they also shared a fascination for rock, pop, reggae, salsa, dance and electronic music.
Novalima developed with the help of modern technology. The group came was formed parts of the world. From their homes in London, Barcelona, Hong Kong and Lima, they started emailing song ideas to each other. These long-distance experiments resulted in their 2002 debut album, the self-titled Novalima.
The reception to the album exceeded their wildest expectations, eventually reaching platinum sales status in Peru, and for their next album they invited more Afro-Peruvian musicians to join their recording sessions, including Nicomedes Santa Cruz, Lucila Campos, Lucha Reyes and Zambo Cavero,. The result was Afro, an album that was released worldwide in 2006 to remarkable acclaim and put Novalima on the international music map.
The founders of Novalima have since returned to Lima and invited some of their favorite Afro-Peruvian musicians to become permanent members of their band: Juan Medrano Cotito, Mangüe Vasquez, Milagros Guerrero and Marcos Mosquera, as well as Constantino Alvarez, a renowned local drummer and percussionist.
The partnership between the original cosmopolitan quartet and members of the Afro-Peruvian community has generated a lot of attention at home, principally because the divide between black and white in Peru has made these types of collaborations rare.
On their album Coba Coba, Novalima expanded on the formula they developed with their two previous recordings, while taking their fusion in new directions. The album's title is derived from an Afro-Peruvian expression used to incite musicians, much like shouting "Go for it!" or "Take it!" to a musician in the midst of a great solo.
On Coba Coba, Novalima explores further into the African roots of Afro-Peruvian music, bringing in influences from its Afro-rooted musical cousins such as reggae, dub, salsa, hip-hop, afrobeat and Cuban son. They took a more organic approach this time around, and the songs more accurately reflected the live sound of the band, thanks to time spent working together as an actual band rather than a studio project.
The 2012 Karimba takes the listener on a trip through the history and travels of Afro-rooted music.
Discography
* Novalima (2002)
* Afro (Quango, 2006)
* Coba Coba (Cumbancha, 2009)
* Coba Coba remixed (Cumbancha, 2009)
* Karimba (Eighteenth Street Lounge, 2012)
* Karimba Diabolic Remixes (Wonderwheel Recordings, 2013)
* Planetario (Wonderwheel Recordings, 2015)